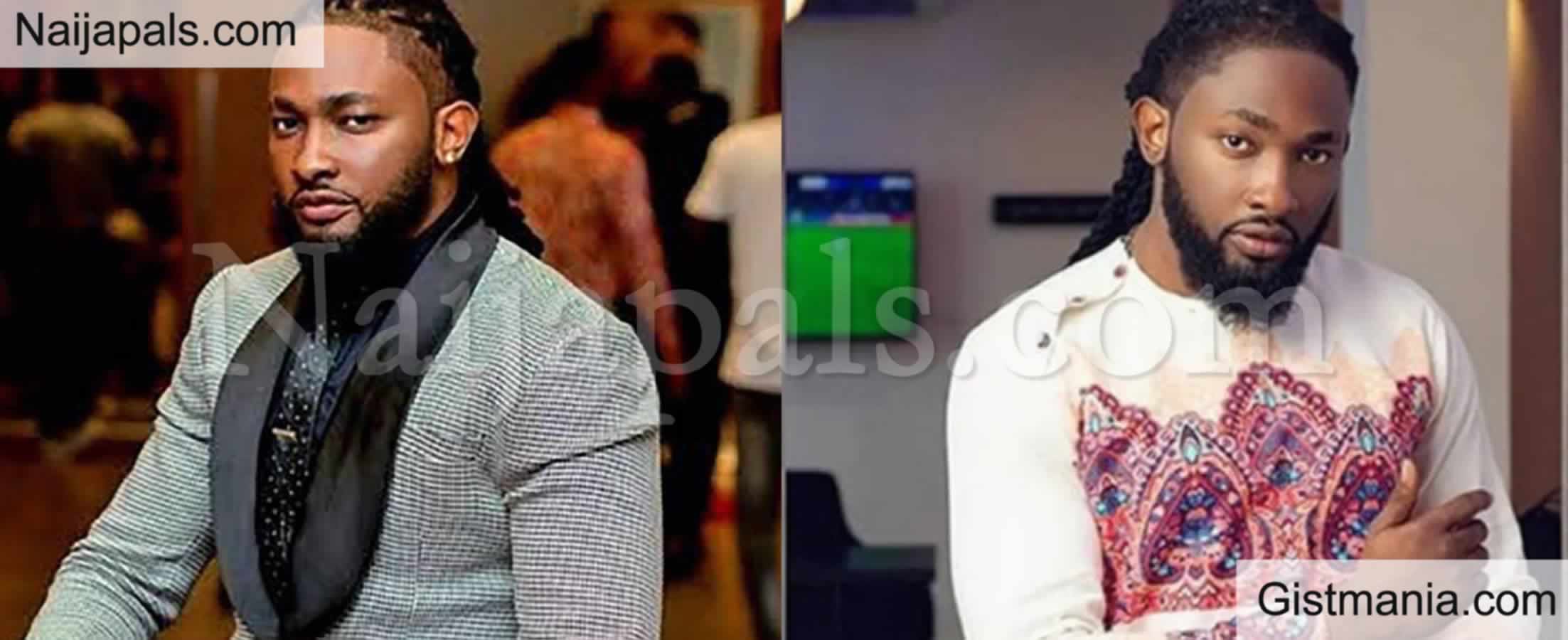 Big Brother Africa star and winner Uti Nwachukwu has addressed Nigerian youths who have put all their hopes of breakthrough and becoming a star on Big Brother Naija, asking them to stop calling and looking for connections or shortcuts to get in.



Uti Nwachukwu, in a series of tweets he put out on the microblogging site revealed that he has gotten a lot of calls, messages and DMs from people aspiring to be on the show to the extent that some even insulted him for not wanting to 'show them the way'.

"It seems like 90% of the youth view Big brother Naija as their only hope for a breakthrough in Nigeria. But please I am begging u people, STOP LOOKING FOR SHORTCUTS!! WHATEVER happened to EARNING your spot! They way my phones have been ringing for the past 2 weeks is actually. Worrisome. Let's not even get started on the dms. The conversation is always the same: Please who can I pay? what are the connections? Put me inside na? Sigh. You guys have it easy o!?", he began.

Using himself as a perfect example to preach that connection does not do it, Uti Nwachukwu wrote further, "In my time it was Big brother AFRICA! ONLY 1 SPOT WAS AVAILABLE!! so who did I know? Who cld have possibly rigged it to give an unknown hustling University undergrad from delta state, the only available Slot for Nigeria? Now you have at least 15 if not 20 slots and you can't believe in yourself enough to earn your own slot? To the point that some have insulted me for telling them the truth that there are no connections or payments for a slot in the big brother show. Saying things like : " bro this wickedness is not the way. U don chop ur own,u no wan make we chop abi? Man no be God. I go make am" I AM TIRED. Nor be me get show abeg."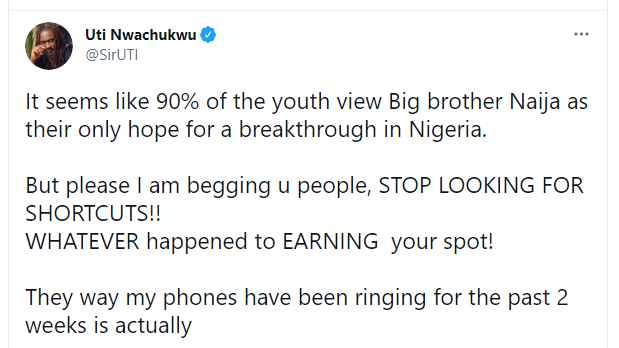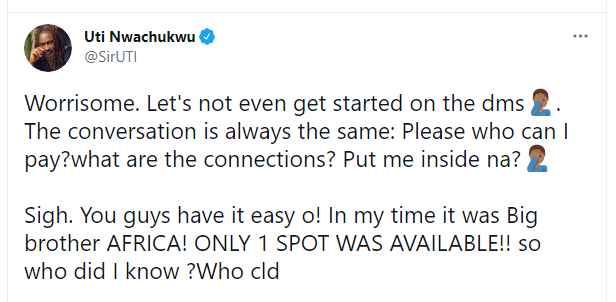 that those calling him stop as he is not the owner neither is he one of the organisers of the show, Uti Nwachukwu further noted, "But stop with the calls&messages. Stop looking for non existing connections. People have been scammed of millions! Cosof this! BE AND BELIEVE IN YOURSELF and hope for the best."
Giving some motivations, he then added, "If its ur time NOTHING CAN STOP U! Fun Fact : I wasn't the first choice for BBA All stars I was a last min replacement to the extent that some things were still in the persons name when I arrived SA."

"I thought I was a decoy till I climbed that stage. But guess who won the show? Lol What will be will beeeeee! FACE UR HUSTLE AND USE UR FAITH! EARN WITH PRIDE Another fun Fact: I've been on Big Brother Africa 3 Times. First in 2008 BBA3(evicted after 6weeks) Second in 2010 BBA AllStars (won the show) Third was in 2014(sent in to spice up the show as one of the Fake Housemates) If only me get these chances,ur own go easy. BELIEVE".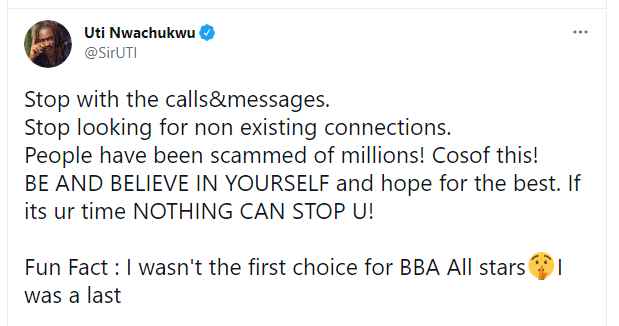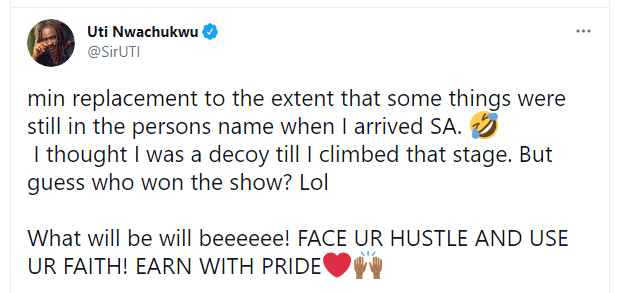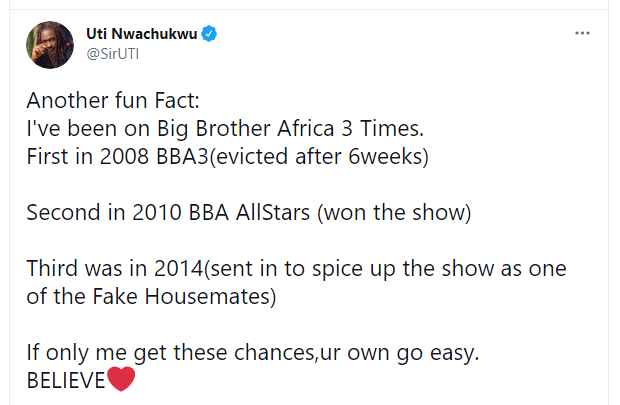 Posted: at 9-04-2021 10:27 AM (1 month ago) | Upcoming