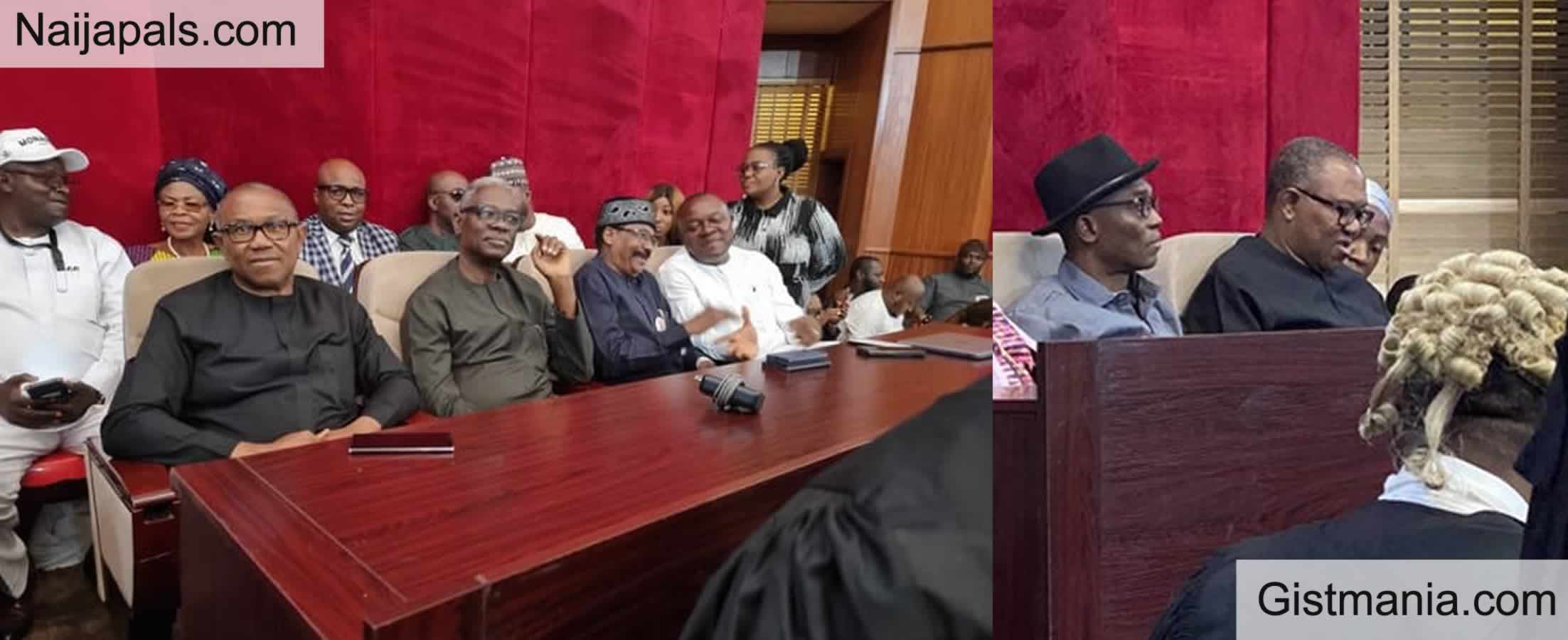 The Labour Party (LP) and Peter Obi, its presidential candidate, have come under fire from the presidential election petition court for their lack of preparation in the suit filed to challenge President Bola Ahmed Tinubu's victory.

The court adjourned the hearing of Peter Obi's petition against Tinubu on Wednesday due to the illness of two important petitioner staff members. On Thursday, the hearing was resumed.

Emeka Okpoko, a senior member of the petitioners' legal team, attempted to present electoral records as exhibits before the court on Thursday during the resumed court session.

However, it was claimed that the paperwork hadn't been scheduled before the court and filed correctly.

As a result, the court halted the hearing for ten minutes and ordered the defense team to re-file the schedule of documents in accordance with the pre-hearing report's guidelines.

But when the court met again, the petitioners' legal counsel remained disorganized.

Disappointed, Haruna Tsammani, who presided over a five-person court panel, encouraged the petitioners to request a delay so they could arrange their paperwork correctly.

"What we have done today is a waste of time. I think you underrated the kind of job you have to do," one of the justices said.

Responding, Awa Kalu, another senior lawyer in the petitioners' team, said they won't be taking the adjournment suggested by the court.

"I took an adjournment yesterday and I would not like to do that today," Kalu said.

Issues were later resolved and the petitioners tendered electoral documents (form EC8As) from six states.

In the petition filed by Obi and the Labour Party, a total of 83 witnesses would be called by both the petitioners and the respondents.

The petitioners indicated that they would call 50 witnesses, the Independent National Electoral Commission (INEC) listed five witnesses, Tinubu and Shettima listed 21 witnesses and the APC listed seven witnesses.

The court fixed May 30 to June 23 for Obi and LP to prove their case, June 24 to June 29 for INEC, and June 30 to July 5 for Tinubu and Shettima, while the APC would present its case between July 6 to July 10.

August 5 is fixed for the adoption of final addresses. So far, only one witness has been called by the petitioners.
---
Posted: at 1-06-2023 11:12 PM (3 months ago) | Addicted Hero