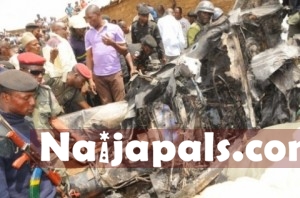 A Nigerian Newspaper on Thursday reported that the helicopter that killed a Deputy Inspector General (DIG) of Police, Haruna John and three other senior police officers in Jos on Wednesday was a faulty one.
The paper quoted witness accounts as saying the chopper took off from the Jos Prison field with indications that something was wrong with it as it headed to Abuja. While flying away, the helicopter drastically lost altitude, and then smoke oozed out of it before it burst into flames and crashed in Kabong, a residential area at Gada Biyu, Jos North.
Resident Iliya John said "We usually see helicopters going round the city almost every day, but this morning we saw this one flying in an abnormal way and we all became alert and we started heading for safety…it was going so low that whoever sees it could tell that something was amiss, in fact people first started coming out and pointing at the way it was flying so low, it was not as the normal ones that we see every day."
"People were even following the aircraft to see where it was going to land because they noticed that it had mechanical problem." another witness, Joseph Audu added.
Senator Hadi Sirika, who served as pilot in the Nigeria Police Force, told journalist that "There are several possible causes, if there is no brief you can't really fathom what happened but he insisted that the crashed chopper was new.
The late DIG was killed along with his orderly, Sergeant Sonatian Shirunam; the pilot, assistant commissioner Garba Yalwa; and the co-pilot, chief superintendent Alexander Pwol-Ja. Also, a nine-year-old child on the ground was killed by the impact of the crash, which destroyed five homes in the area and injured several people who were taken to the Air Force Military Hospital, Jos.