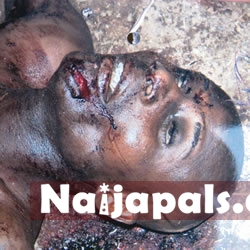 WHEN Mukaila Ajadi was ejected from the house he was living in by his landlord's children, little did the landlord's family know that this directive did not go down well with their tenant, as a fight resulting from a reaction to the quit notice ended the dreams and aspirations of one of the lanlord's son, 42-year-old Musiliu Sogunro on February 8, 2012.

Ajadi, a 51-year-old father of three was reported to have packed into the house at Sanyo area of Ibadan, Oyo State in 2007. His landlord died in January 2011 and since then, he was alleged to have refused to pay his house rent, owing the landlord's family a year's rent. Not only this, another female tenant who was brought into the house by Ajadi was also owing some rent.

When all overtures to make the two tenants pay up the money failed, the landlord's children decided to give them quit notice but Ajadi was alleged to have refused to quit the one room he was living in with his wife and three children, saying that he would remain there until he would be able to secure another accommodation.

The female tenant however decided to comply with the landlord's children's directive and started packing her things in bits. At a point, she had moved all her belongings from the room she occupied, leaving behind her mattress. Miffed by the action of the woman who continued to lock the room she occupied, Sogunro, on sighting her in evening of thed fateful day, challenged her on this, demanding to know why she locked the room up, unknown to him that her mattress was still in the room.

Tempers flared between Sogunro the woman and in no time, they started exchanging hot words with each other. It was at that point that Ajadi, who was around at the time, interjected the quarrel. However, his contribution did not go down well with Sogunro and before anyone knew what was happening, a fight ensued between the duo. The outcome was that Sogunro slumped, covered with his own blood which was flowing from different stab wounds on his body.

According to information gathered by Sunday Tribune, Ajadi claimed that it was Sogunro who brought a bottle, broke it and injured him on the back of his hand with it. In annoyance, Ajadi claimed he wrested the broken bottle from Sogunro but did not know that he stabbed him until he saw his picture with the different points where he was stabbed on his body.

When Ajadi saw that his landlord's son had slumped, he went to Sanyo Police Station to report that he and someone fought and stabbed themselves. He was advised to go and treat himself. It was after he left that the deceased's wife came to report at the station that Ajadi had killed her husband. The woman was said to have informed the police that she received a call from an unknown person who told her to come and see her injured husband. On getting home, she was shocked when she met her husband on the ground, stone dead.

The police at Sanyo police station had reportedly traced Ajadi to the hospital where he went to treat himself and promptly arrested him. Sunday Tribune further gathered that his case was transferred to the State Criminal Investigation Department (SCID), Iyaganku, for further investigations, after which he was charged to court. He is currently being remanded in Agodi prisons while his case has been adjourned.

---
Posted: at 28-03-2012 03:49 PM (11 years ago) | Gistmaniac