Vs







MATCH STATISTICS



The biggest rivalry in world soccer will be revisited again on Saturday when Real Madrid travels to Nou Camp in Barcelona to face the Catalans in what comes down to a must-win for the home team, which needs to try to make up some valuable ground in the dwindling La Liga season.

Real Madrid (27-4-2) currently sits four points (85-81) above Barcelona (25-6-2) on top of the Spanish Primera League heading into this heated match. With a win, Real Madrid can almost ice the league title by going seven points up on their rivals with just four games remaining after this must-see match.




The game sits in a precarious spot on the calendar for both teams, sandwiched between Legs 1 and 2 of the two clubs' UEFA Champions League semifinal matches against Bayern Munich (Real Madrid) and Chelsea (Barcelona).

Los Blancos fell to Bayern Munich, 2-1, in Germany on a late goal (90") by Mario Gomez on Tuesday, while Barcelona is currently in West London awaiting its Wednesday UEFA CL semifinal Leg 1 tie with Chelsea at Stamford Bridge (FX, 2:45 pm EDT/11:45 am PDT).

Saturday's match between the two clubs, which I presently have ranked No. 1 and No. 2 both in Europe along with the entire Milky Way galaxy, should be a high-scoring affair. Cristiano Ronaldo and Real Madrid have scored more goals (107 goals for, 29 against) than anyone anywhere, while Lionel Messi and Barcelona (96 goals for, 24 against) have been known to put a ball or two in the back of the net from time to time.

The Catalans have a couple of things going for them in this battle where I'm sitting. At home at Nou Camp, Barcelona is undefeated (15-1-0), outscoring its foes an incredible 64-8 in the process. On the road, Real Madrid is an impressive 13-2-1 (44 goals for, 11 against) in La Liga, but beating Barça is a different beast.

A motivational factor for the Blaugrana is the reality that they are just four points behind Real Madrid in the league table and, with a victory on its home turf, can cut that lead to a slim one point (85-84) with only four games remaining.

With players like Messi, Cesc Fàbregas, Xavi, Andrés Iniesta, Dani Alves, Gerard Piqué, Carles Puyol and Víctor Valdés, the defending UEFA CL champs Barcelona can beat anyone almost anywhere and are certainly one of the best teams in soccer (fútbol) history.

As if all that wasn't enough to side with the home team in this game on Saturday, consider Barcelona's 5-2-1 record against Real Madrid in the last eight meetings, where it has outscored the Whites—who haven't scored more than two goals in any of those matches—by a healthy 19-9 total in La Liga, Copa del Rey and Spanish Super Cup play.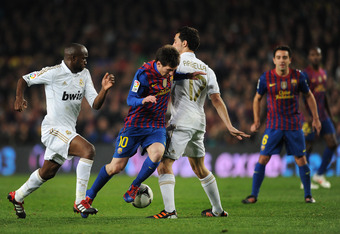 So for three-time defending Spanish Super Cup champions Barcelona to have any chance of winning La Liga, the Copa del Rey title (vs. Atletico Bilbao May 25 in Madrid) and the UEFA CL crown (May 19 in Munich), it needs to win this match against Real Madrid and close the league gap to one point.

Although Los Blancos, under Jose Mourinho, are as good as they have been in some time, The Special One hasn't been so special against the Catalans. Until Real Madrid can knock off Barça, manager Pep Guardiola will retain all bragging rights.

Both Gonzalo Higuain and Kaká weren't in Real Madrid's starting XI versus Bayern Munich on Tuesday, so they should be rested and possibly start in this edition of El Clasico. Barcelona won this season's first El Clasico, 3-1 at Santiago Bernabéu.

In the end, Barcelona is that gnat Real Madrid can't kill and until Mourinho's crew can prove they can beat their Spanish rivals, I will have to side with Barcelona.


Who's Your Money On?
---