ABUJA — THE House of Representatives, yesterday, called for investigation of the Central Bank of Nigeria, CBN, Governor, Mallam Sanusi Lamido Sanusi's recent controversial cash donations to Kano State bomb victims and the University of Benin.


Malam Lamido Sanusi, Governor, Central Bank of Nigeria

his came as the House moved to reduce the powers of the Central Bank of Nigeria, CBN, specifically, in the areas of appropriation and constitution of the bank's board.

The legislators also want Governor of the apex bank removed from the board of the bank.

This development came barely a week after a similar move by the Senate resolving to reduce the powers of the CBN, its governor, and other principals of the regulatory body.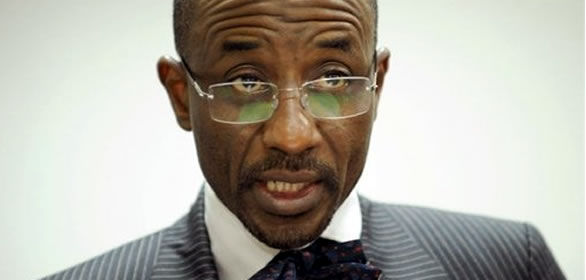 The CBN Act, which lawmakers seek to review, vests the responsibility of considering and approving of annual budget on the Board of the bank. The CBN, by virtue of the Act establishing it, is insulated from the powers of appropriation and control of public funds domiciled in the Legislature, leaving room for arbitrary expenditure, lawmakers insist.

At yesterday's plenary, a Bill for an Act to Amend the CBN Act, 2007 to appoint a person other than the governor as the chairman of the board of the bank passed second reading. Also, the Bill, if finally passed, will exclude deputy governors and directors as members of the board.

In a debate, all in support, lawmakers described as an anomaly a case were the National Assembly is prevented from scrutinizing the budget of the CBN as is the case with all agencies of government which are required to submit their budgetary estimates to the National Assembly for consideration.

Reps want Sanusi's cash donations probed

The donations received widespread disapproval as The Green Chamber passed a resolution condemning the donations, and called for investigations.

"I see clearly the usurpation of the powers of appropriation of parliament," Deputy Majority Leader, Leo Ogor, said.

According to Ogor, the review of the CBN Act was necessary to ensure that the apex bank is answerable to the people.

The chairman of the House Committee on Power, Patrick Ikhariale, described as 'obnoxious' powers of the CBN to fix emolument of its staff without recourse to the National Salaries, Incomes and Wages Commission, adding: "The CBN as it is today has by all means become an octopus.

"It is on record that the salaries of the president, vice president, Senate president and House speaker is fixed by the relevant government agency."

The Chairman, Public Accounts Committee, PAC, Solomon Olamilekan Adeola said the CBN did not have an audited budget spanning 2009-2011 and described the development as a clear violation of constitutional provisions

Also yesterday, the Speaker, Mr Aminu Tambuwal, warned government Ministries, Departments and Agencies (MDAs) from illegal spending of their Internally Generated Revenue without parliamentary approval.

Tambuwal mandated its relevant committees overseeing MDAs to propose amendments that would check unpermitted spending by government agencies.




---
Posted: at 3-05-2012 07:46 AM (11 years ago) | Gistmaniac