Although, he was trained to be a minister in the temple of justice, a legal practitioner has been arrested for alleged role in armed robberies. Barrister Promise(other names withheld) led a deadly gang that specialized in snatching at gun-point exotic cars, especially Sport Utility Vehicle (SUV) of different brands. Impeccable police source said that the lawyer recruited members of his gang who usually carried out operations while he remained at the background as the sole receiver of the vehicles.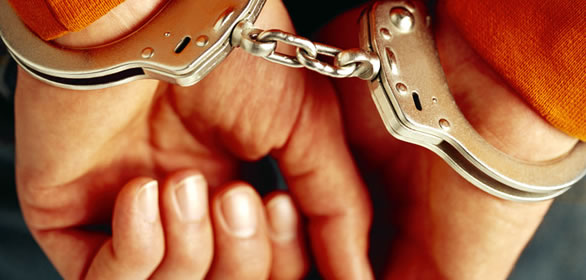 "He is a lawyer and also a car dealer, who deals only in stolen vehicles. He doesn't go for operations but he was the sole receiver of the stolen vehicles. He recruited them and bought the vehicles cheaply from the gang," the police source said. Most of stolen vehicles were sold in Onitsha, Anambra State. When the crack team of FCT Special Anti-Robbery Squad (SARS) stormed Promise's residence in Gwagalada, he had fled but was later apprehended in Lugbe, Abuja.

The Deputy Commissioner of Police, Alhaji Alkali Usman told Crimewatch that when they received complaints and petitions from the victims he quickly ordered the officer in charge of SARS, Commander, Supol Benneth Igweh (CSP) and his team to take action . He said this was after Barrister Promise's gang snatched an SUV in Port-Harcourt, robbed the victim and took the stolen vehicle to Abuja and parked it at Promise's house. CP Usman stated that the same gang also robbed a woman in Port-Harcourt as she was taking her daughter to school and snatched the car and parked it at their gang-leader's compound.

The Commissioner of Police, Adenrele Shinaba, told Crimewatch that the victim was lucky because he has a track which was used by SARS operatives to track the SUV and after conversation with the suspect, he ran away from his house in Gwagalada. The policemen from SARS went and locked up his house. He said he was later arrested in Lugbe, Abuja. CP Shinaba explained that when Promise was picked up, "we arrested a lady simply called Amarachi, girlfriend of one of the members of the gang.

Amarachi always took the stolen cars to Onitsha in search of buyers. When she discovered that policemen were looking for her, she quickly relocated. She was arrested through phone call," he said. According to him, Promise's arrest led to the apprehension of other suspects Chimazie, Micheal and John who are now at SARS for further interrogation. Promise told Crimewatch that he is a qualified lawyer and car dealer.

"I am a lawyer I attended Abia State University. I graduated in 1999 and I went to Law School in 2000 and when I came back, I started practising in Abuja." CP Shinaba added that Promise and his gang took the detectives to several states including Nasarawa, Edo, Ogun and Kaduna to recover all the cars such as Inifinity Jeep Reg. No. SN695KJA, Toyota Hilux Reg. No: SMK 680 AE, Honda Pilot Jeep Red Colour, Honda CRV Jeep 2007 Mode No. AL. 99ENG and Toyota Camry Car Reg. No BP 433 BRC. He said some of the victims have come to the command to identify their cars. One of them, (names withheld) said that his car was snatched . "But luckily, I have the track device and we tracked the car and through this SARS policemen arrested the armed robbers and I am able to identify them," he stated.
Posted: at 21-09-2012 08:10 AM (9 years ago) | Gistmaniac