Feels really bad watching this, but its hard to imagine this man to have stabbed his wife to death, considering they have a small daughter together, the man has been crying going about who will be taking care of daughter: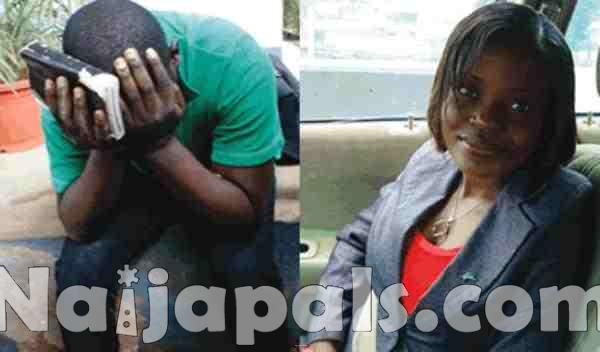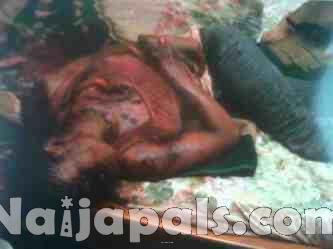 CLICK HERE FOR A DETAILED PHOTO STORY ON THIS TRIAL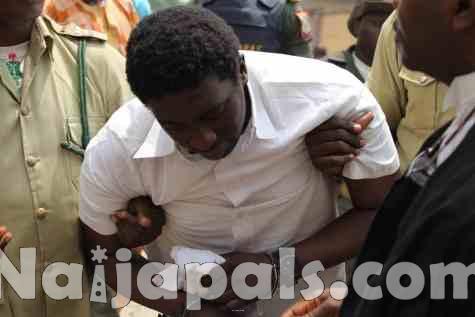 Here is a full transcript of the case:


Akolade Arowolo has been sentenced to death over the murder of his banker wife, Titilayo Omozeje in 2011.

Arowolo who is a youth pastor at the Redeemed Christian Church of God, RCCG, Gbagada Parish, Lagos, southwest Nigeria, has been on trial in the court since 2012 over the murder of Titilayo, a Skye Bank Staff, on 24 June, 2011 at their residence, 8, Akindeinde Street, Isolo, Lagos.

Justice Okunnu held in her over three hour judgment that evidence before the court proved that Arowolo actually murdered his wife in their matrimonial home.
Relying mainly on a forensic report conducted by Prof. John Oladapo Obafunwa, a pathologist, the court held that there was no way the deceased could have stabbed herself to death.



The Judge, Justice Okunnu held that by the law principle of 'Last Seen', since Arowolo was the only person with his wife when she was stabbed, no one but him could have killed her.
Upholding the prosecution's case, Justice Okunnu held that evidence proved beyond doubt that Arowolo gruesomely murdered his wife with tremendous knife stab force.
Immediately after the judgment, Arowolo fell down in the dock and started shouting "Jesus have mercy."

Coincidentally, Arowolo was sentenced to death Friday, the same week day he killed his wife.
Arowolo was led into the courtroom at 9:30a.m. by prison officials. His countenance portrayed someone who had come to terms with whatever fate would befall him.
He wore a white short sleeve shirt and black trousers. Moments after he entered the courtroom, Arowolo immediately knelt down and prayed for about 15 minutes. He thereafter started reading the Bible until the court began sitting at about 9:45a.m.
Arowolo was formally charged with his wife's murder on Friday, 7 July, 2011 before a Yaba Magistrates' Court.

The matter was later transferred to the Ikeja High Court following an advice by the Directorate of Public Prosecution, PDP.
The state had alleged that Arowolo murdered Titilayo, a banker, on June 24, 2011 at their residence, 8, Akindeinde Street, Isolo, Lagos.
A total of 21 witnesses gave evidence in the case that lasted for 26 months.
The Lagos State prosecution team, led by Mrs Olabisi Odugbesan led 15 witnesses in evidence to convince the court that Arowolo murdered his wife.
One of the key witnesses was Prof. John Oladapo Obafunwa, a pathologist who conducted an autopsy on the deceased.

Prof Obafunwa testified that his autopsy report revealed that Titilayo was killed through 76 knife stab wounds.
He noted that the knife wounds affected Titilayo's left eye, right eye, upper chest area, right chest and collar bone.
Prof. Obafunwa pointed out in his testimony that the deceased could not have inflicted such wounds on herself.

To further prove its case, prosecution invited some of Titilayo's family members who testified that Arowolo and Titilayo had always had a troubled marriage.
The family members included Titilayo's father, George Oyakhire; sister, Ijeh and mother-in-law, Mrs Adetoun Yeside Oyakhire.
The three witnesses testified that the couple lived a cat and mouse life. They claimed that the family had at several times, settled serious fights between the couple. None of the witnesses however saw what actually happened on the day Titilayo died.

Arowolo's co-tenant, Adewale Adeyemi also gave evidence in the case. Adeyemi in his evidence said that on the day of the incident he heard a loud noise when he was in his apartment and later saw Arowolo rushing out with a deep cut in his palms.

He claimed to have also seen a hammer and a knife with a broken handle in the yard. Other witnesses such as the security man at the Arowolos' residence, Investigating Police Officer and an MTN Staff also gave evidence in the case.
Having presented its case, the burden was shifted on Arowolo to defend himself. Expectedly, Arowolo had his personal explanation as to what happened on the day Titilayo died. First, he claimed that he and his deceased wife had passionate sex for two hours and kissed on the same day she died.

He claimed that Titi stabbed herself to death on the day after they had a fight. Arowolo claimed that Titilayo was possessed by an evil spirit and inflicted several stab wounds on him before turning to herself.
Arowolo's father, Mudashiru and mother also testified to their son's good behavior, insisting he could not have killed his wife.

They claimed that he has always been a religious person and was incapable of killing anybody.
akolade arowolo death by hangingAn ex-journalist, Mrs Omordia, who now works for Bringer International, a non-government organisation involved in the counselling and rehabilitation of prison inmates, also testified that despite the negative perception about Arowolo, he has exhibited an exemplary character in the NGO's leadership training programme held inside the prison.
Mrs Omordia also testified that the defendant had shown exemplary leadership qualities in the prison environment and was a member of the prison's recreation, reformation and rehabilitation club.

Addressing the court on concluding his defence, Arowolo's lawyer, Olanrewaju Ajanaku, submitted that there was no substantive evidence linking his client to the murder of his wife.
He noted that since none of the prosecution witnesses saw the alleged fight between the couple, their testimonies were mere hearsay.
Ajanaku argued that it would be improper for the court to convict his client based on the evidence provided by persons who were not present at the scene of the incident.
He urged the court to discharge his client since none of the prosecution witnesses was able to directly link his client to the murder of Titi.

Prosecution counsel Olabisi Ogungbesan, however, countered Ajanaku's submission, saying that prosecution has provided enough evidence for the court to convict Arowolo.
Ogungbesan said that evidence provided by prosecution showed that the defendant was the only person present with the deceased who forensic analysis proved was killed by multiple knife stabs.
She also noted that the defendant was seen with blood stains in his car by the police moments after the alleged fight with his late wife.
Ogungbesan also submitted that Arowolo's act was intentional since he allegedly stabbed the wife more than 76 times and urged the court to convict the defendant as charged.
---
Posted: at 22-02-2014 04:35 PM (9 years ago) | Addicted Hero