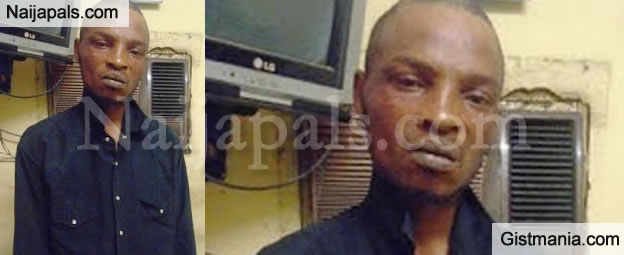 A 32-year old suspected phone thief, Idowu Nojeem pictured above, has been accused of beating a policeman attached to the Rapid Response Squad (RRS) of Lagos State Police Command, black and blue while attempting to rob the operative of his Tecno Y5 handset. The operative, Sergeant Oladipo Adetumbi, who was on a surveillance mission around Ikeja Under Bridge, made a frantic effort to arrest the suspect in spite of receiving several punches on his face.
An eyewitness who spoke on condition of anonymity, explained: "I was with the Policeman when the suspect forcefully removed the phone from the operative's front pocket. The Policeman was on a surveillance mission in the area but was not in uniform. I saw a man moving towards the sergeant but he never knew he was a policeman…. he stylishly covered his face with a newspaper, and removed the phone from his pocket. As I stood beside him when the incident occurred, we were all shocked that someone could have such an effrontery to rob while many passers-by were moving. Immediately the policeman suspected that his phone had been removed, he pulled the suspect by his shirt, but the suspect said he should forget his phone that it's gone. He started beating the policeman before we could separate them. The Police officer really showed doggedness never to allow the suspect escape because as the fight was ongoing, he still held him tight with his trousers. When it was obvious that he was gaining an upper hand, the traffic warden and other policemen close by stepped in to separate them. Then, the operative now dragged him to other RRS operatives stationed at the Under Bridge, Ikeja".
While at under bridge, a lady, Adoh Nneka, also walked up to challenge this same guy for stealing her phone few hours before the incident. "I was trying to board a bus to Ogba when I sighted three guys including the suspect walking beside me. The suspect was intermittently drawing my bag from behind but I held my bag tight with me. But I didn't know he has used a razor blade to cut the bag and took all my two phones (Tecno F5 and P5)…. Immediately I turned and checked my bag, my phones were gone. One of the passers-by, who saw the suspect when he was removing my phones, pointed at him for stealing my phone…. Truly, I saw the two phones with him from afar but I was too afraid to confront him. I was still standing there hoping for help to come…. Fortunately for me, I saw a crowd at under bridge looking at somebody. When I moved closer to know what was going on, I saw the same man (suspect) being handcuffed by the police for stealing an RRS operative's phone…. Then, I have the guts to explain to the police that he had earlier stolen my two phones before now"she said. While confirming the arrest of the suspect, the state Police Public Relations Officer (PPRO), SP Dolapo Badmus, affirmed that the police will not condone in any act of criminal activity, promising that efforts are in top gear to arrest other members of the syndicate. The suspect has been charged to court.