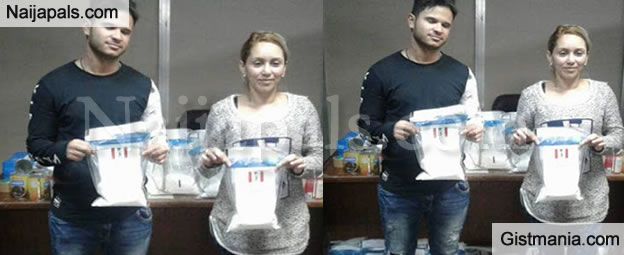 Officials of the National Drug Law Enforcement Agency (NDLEA) at the Murtala Muhammed International Airport (MMIA) in Lagos have arrested two Brazilians who together attempted to smuggle over 23 kilograms of cocaine into the country. Dias Dos Santos Marcia Cristina, 36, was found with 9.4kg of cocaine in her bag and Lima Pereira Erick Diego, 20, had 14.465kg of cocaine in his bag. The Brazilian nationals, who traveled from São Paulo, claimed to be tourists. Mitchell Ofoyeju, spokesperson for NDLEA, said in a statement that the drugs were carefully hidden in food cans inside their luggage. The total weight of the cocaine seizure was 23.865kg with an estimated street value of N310 million.

Mr. Ofoyeju said that it was the first the NDLEA arrested Brazilians with cocaine at the Lagos airport. However, he explained that the Nigeria-Brazil cocaine trafficking route has gained notoriety over the years.

NDLEA Commander at MMIA, Ahmadu Garba, said that the arrest took place during the inward screening of passengers on an Emirates flight. Officers discovered a white substance concealed in food cans which tested positive for cocaine.

"The tins were factory-sealed such that officers had to cut them open to discover the concealed drugs. Several canned drugs had been uncovered at the Lagos airport in the past," Mr. Ofoyeju said. "This development is not a surprise to narcotic investigators because drug cartels are always adopting new strategies of smuggling drugs," he said.




The NDLEA spokesperson told our correspondent that the anti-narcotics agency concluded arrangements to arraign the suspects in court.

Commenting on the arrest, NDLEA Chief Executive Muhammad Mustapha Abdallah commended the officers for detecting the cocaine and apprehending the suspects.

"This arrest is impressive. It is a clarion call for nations to work harder and deepen collaboration in the fight against narcotics. Collective efforts are required towards making local and international borders impenetrable by drug traffickers and other criminals," Mr. Abdallah stated.

He assured the Nigerian public that the suspects would be prosecuted in accordance with the law.
---
Posted: at 25-04-2017 09:32 PM (5 years ago) | Addicted Hero