MANCHESTER CITY


PROBABLE LINE-UP (4-2-3-1): Hart; Zabaleta, Kompany, Lescott, Clichy; Y Touré, VBarry; Silva, Tévez, Nasri; Agüero.

Vs

MANCHESTER UNITED


PROBABLE LINE-UP (4-4-2): De Gea; Smalling, Evans, Ferdinand, Evra; Valencia, Carrick, Scholes, Nani; Rooney, Welbeck.



As far as derby clashes go, it doesn't get much bigger than this.

As far as season-changing matches go, it doesn't get much bigger than this.

When Manchester United travel to the Etihad to take on Manchester City come Monday, much more than three points will be on offer—rather, the entire English Premier League will be up for grabs.

United currently hold a three-point lead over City, and if they could pick up all three points here, then they'll nearly be impossible to run down for the title. However, if City win, their superior goal difference would take them to the top of the table.

It all comes down to this one, and here's everything you need to know and more about this crucial Manchester derby.

Few City fans will forget the time that they waltzed in to Old Trafford and gave the hosts a 6-1 drubbing; few United fans will have forgotten it either.




n United's defense, City did score three goals in stoppage time and the Red Devils were down to 10 men, but at the end of the day, the scoreboard read what it did.

United will know the embarrassment they felt at home and will be desperate to make amends in some way for that horrible day back in October. City might not have lost at the Etihad this season in the Premier League, but if any side is going to be able to change that, it will be United.

Big Question: How big is Manchester City's home-field advantage?

After watching their dominance at the Etihad this season, there is little doubt as to the advantage that Manchester City have playing at home. They've won 21 of their last 22 Premier League matches there and haven't been defeated at home all season.

United, on the other hand, lost their last away match to Wigan Athletic and only just got up in their road match before that, leaving it until the final 10 minutes of play to find a match-winner against Blackburn Rovers.

Yet, for all City's home field dominance and United's recent road flutters, don't expect there to be a gulf in class between these two sides at all.

The Red Devils may be scoring less goals away from home (2.12 per game), but they're also conceding far less as well, averaging just 0.76 goals against per game away from home.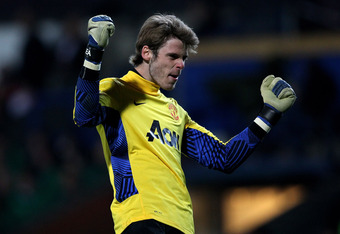 Manchester City will be throwing everything at the United back line—just like they've done all season long at home, where they average exactly three goals per game. This is made even tougher for the visitors, who will know that City have conceded just 10 goals at home all season long.

So how big is City's home-field advantage?

It would be naive to suggest that it doesn't exist, and City will certainly enter the match as favorites due to it being played at the Etihad. But I wouldn't rule out United's away form. They've only lost twice all season away from Old Trafford and they are, after all, the team atop the Premier League table. So, yes, it definitely exists, but not to the extent that one might think it does.



Difference-Maker: David De Gea (Manchester United)

If Manchester United are to hold off City at home, they'll need their defense absolutely on fire, and that begins with the man at the back, David De Gea.

The Spaniard has been in superb form of late, and it's no coincidence that United's run to the top of the table occurred around the same time that the keeper's form started to surface.

Still prone to the odd cross or long ball at times, De Gea's quick reflexes and natural skills, which he nurtured throughout La Liga, have saved United more than once this season and could well do so again. Whilst there wasn't much he could have done to stop Everton's late rampage at Old Trafford, no keeper likes to concede one goal, let alone four, and definitely not at home.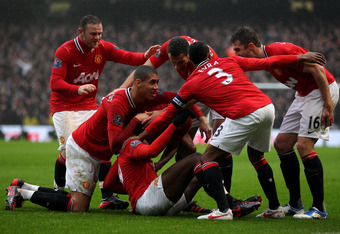 Before the Everton match, De Gea had let in just one goal in seven matches; he'll be looking to bring that form to the Etihad as he tries to keep out the dominant Manchester City attack.



Hot Stat to Remember: Manchester City in the second half

Don't be surprised if both clubs enter half time at a deadlock. City have only gone into the break with a lead in less than half of their Premier League matches so far.

However, the second half is where this game will be won and/or lost. The Citizens are scoring just under 70 percent of their goals in the second half, while United are conceding nearly 80 percent of their total goals for the season after the interval.

In particular focus will be the final 15 minutes of play, where Manchester United have conceded more goals than any other period and where City have found the back of the net nearly 20 times this year.

Who's Your Money On?
---