Corruption is not new in Nigeria. It is found among poor, rich and among leaders that took an oath to serve the country with truthfulness.

Federal Airports Authority of Nigeria (FAAN)

is a government organisation enmeshed in corruption has again been confirmed following the arrest of the organisation's two security officials by the Inspector General of Police monitoring team on Wednesday for stealing $20,000 from a passenger's baggage.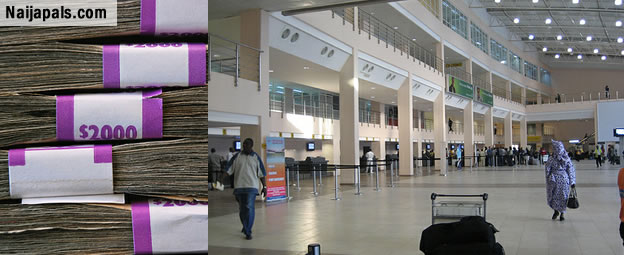 The security officials, who have been flown to Abuja on the order of the Inspector General of Police, Muhammed Abubakar, were said to have stolen the money from the baggage of an airline operator during the screening of his baggage at the screening point of the Murtala Muhammed Airport terminal one.

According to the airline operator who does not want his name in print for now, trouble started when he was to board a 6.5 a.m. flight on First Nation to Abuja to perform a national exercise.

Getting to the screening point of the departure hall of the MMA2 terminal, as expected, he positioned his hand luggage on the screening machine and walked through the screening being conducted on passengers by the FAAN security officials.



When the flight was announced, he took his hand luggage and proceeded on board without knowing that the security officials had removed $20, 000 from his luggage.

However, the bubble burst when the airline operator tried to bring out his complimentary card which he wanted to give to a long-time friend whom he met on board but discovered that his money was gone.

The airline operator, who said his money was still intact at the screening point, said at that point, it was impossible for him to disembark from the aircraft as the gangway was already closed by the cabin crew hence, he decided to put a call through to the managing director of FAAN who said he was in Abuja but directed him to contact the director of security in FAAN.

But despite the complaints made by the passenger, neither the FAAN chief nor his director of security was forthcoming as they failed to communicate with him for a whole week.

Sensing that the management of FAAN was not interested in his case, he decided to report the matter to the police IG, who asked him to forward a letter of complaint to his office and copy the Minister of Aviation, Stella Adaeze Oduah.