A few years back, Nollywood actress, Nse Ikpe-Etim, took a break from acting, to work in the banking sector. Ikpe-Etim, who is a professional chef, later delved into the fashion industry before she made a comeback in Emem Isong's hit movie, Reloaded.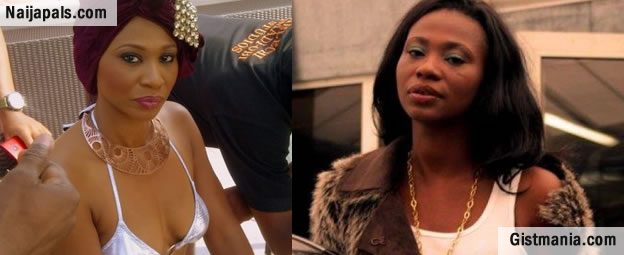 But nowadays it takes an intelligent script and a thorough filmmaker to entice her away from her home and family, as well her favourite place, the kitchen.

And the latest film script to have engrossed the slender role interpreter is the Rita Dominic/ Mildred Okwo's satirical comedy flick, The Meeting, in which she plays, Bolarinwa, the high-flying girlfriend of a serving federal minister.

Although she appears in just a few scenes in the film, the actress is quick to correct anyone who thinks that it was an irrelevant role. "It was not a minor role, I beg to differ because one scene can make or mar a movie and one scene can give you an Oscar or AMAA. So I like to say that every role is increasingly important as long as you are an actor. You can have guest appearances, cameos, lead and supporting roles. My role was a cameo," she says.

As she speaks glowingly about her role in the movie which premieres today, Ikpe-Etim almost immediately switches into character and then in a smattering of Yoruba language saying, "Mo need cash gan just like Bolarinwa, my taste is very high," bursting into a fit of laughter.

It then becomes almost impossible to decipher when she is actually being serious with the responses and when it is just a tease. But this is quite understandable for the actress who spent her formative years in primary and secondary schools in Jos, Kaduna and Ilorin as she loves to have a good laugh.

The societal pressure on Nollywood spinsters keeps mounting by the day and has been attributed as the reason behind the scandals and divorce tales trailing a number of stars. While there may be a tendency for some persons to take her jovial nature for granted, Ikpe-Etim says she does not take lightly issues that pertain to her still being single having come this far in her career and so naturally puts up a defence.




"The thing is I have stated my thoughts on marriage. It is a good thing but it has to be kept holy. Who says I am being delayed? I do not subscribe to divorce because I am so catholic and I was brought up that way. I am not in a relationship because I won't have time to make other people happy and make 'him' happy. I have chosen who I want to make happy, my fans.

"It's very early in my career and I can't compromise because I can't feed him. I don't do trial and error, every man that has been in my life has been for a reason and season and I am sure they are all fine. It is something that you do not out of societal pressure, not because your parents want you to do it but because you are ready and you have found the one person that you cannot dare to live without," she explains.

Just like many other thespians who have found solace in Nollywood, Ikpe-Etim, who studied Theatre- Arts at the University of Calabar, says she misses the adrenalin rush that comes with being on stage.

"My background in theatre has helped in a way because you know what you want. More so theatre does not teach you acting for film. Acting for film, is a different thing from being on stage. They are two different ball games. You have to be lucky that the camera loves you and whatever it is, you can elicit any sort of feelings from your viewers. Theatre is exhilarating. It is almost orgasmic."
Problem with this article? Please contact us