«§» 7 December 2012
It is being reported that a whooping N2.1 billion of newly printed N1,000 notes has mysteriously gone missing from the Nigeria Security Printing and Minting Company (NSPMC).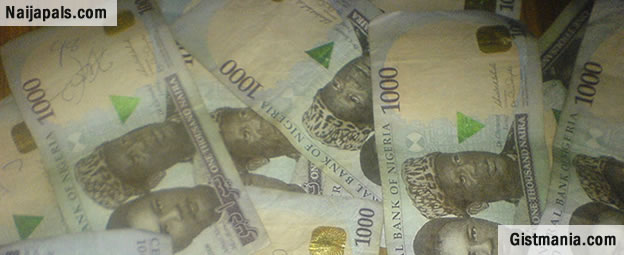 According to Leadership, members of the board of NSPMC met yesterday at a meeting chaired by the Central Bank of Nigeria (CBN) governor, Sanusi Lamido Sanusi, over the scandal rocking the establishment. At the meeting, they decided to expand the investigation and audit the production of other currency denominations to ascertain the quantity of money that has actually gone missing over the years.

Leadership further reported that the Chief Executive of the Mint Company Ehi Okomoyon, was asked to proceed on indefinite leave and an acting managing director, Ahmed Bamali, was appointed to head the Mint company. The suspension of Okoyomon as managing director is to last until all investigations have been concluded.

Also, the head of security at the NSPMC, Emmanuel Bala, has also been asked to go on compulsory leave by the board of directors of the company.

At the meeting, the board faulted the suspended MD for failing to disclose to it that such amounts of money had gone missing. The audit team had however, established that the theft of printed bank notes could be traced to security lapses and security personnel who take custody of newly printed bank notes, and when there were shortages, they were never reprimanded.

It won't be out of place to say that Nigerians are simply tired of hearing such news of theft and corruption by people who are supposed to be custodians of the nation's resources. We only hope that tangible results are gotten from the audit and suspension of the principal officers. N2.1 billion cannot just disappear into thin air.
---
Posted: at 7-12-2012 05:24 PM (9 years ago) | Hero