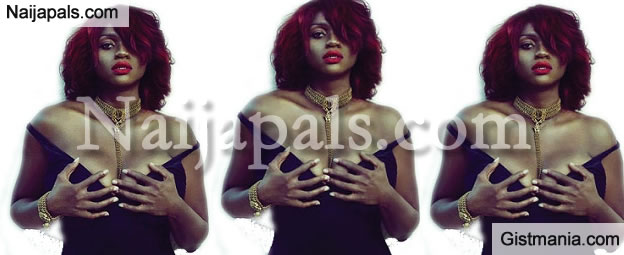 While performing last weekend, you recounted how you worked with a record label for 10 years without producing an album. How did it happen?

Yes, I got signed to a record label when I was very young. The owner of the record label was a family friend, I did not bother to read through or look at the nature of the deal I was going into. Sometimes, people do have good intention but in life, time and chance happens to everybody. Even me, I did not have the ginger because I probably was waiting for them to do everything.
I did not understand the culture of going out there and getting things done for myself. But the good thing is that the contract did not expire. We ended amicably when I decided to go and pursue my dreams. At the time when I left the label, I released my song, "For a minute." I did the song myself and at the same time shot the video.
So that is what happened. It was just a question of me not going out there to get things done for myself. I was waiting to be spoon fed. Not knowing that it is the other way that you have to go out there and hustle for yourself and not waiting for people to do it for you.

How old were you at that time?
I was 18 years.

How was the experience after you left the record label?
Like every other industry, I have to find my feet in many ways. This is because I do not know my left or right in the music industry. So, I have to learn a lot of things along the line. I am sure that is the experience of most people in the industry. I have to learn how to look for the right people to promote my songs and also learn how to look for the right producers to do my songs for me.
For me, it was all about, let's go there and sing. I did not understand that as a female brand. You are also a show brand; how you look have a lot to say about your career. Basically, it has all been me learning with affiliation of all the people I have been meeting as I pursue my career in music.

Do you still have the fear of what your fans want from you despite the years you have spent in the industry?
Yes, I still have the fear, most of us also have the fear of what our fans want from us. But one thing I have which I thank God for, is my team. I do not keep it all to myself because, you cannot know it all. So, when you finish a music, play it to your team and sample opinion.
I am a strong believer in my talent. I strongly believe that for every single move you make there is a sound for that. And I feel that there is an audience to cater for as well. For me, African music as much as it is danceable still has a soul regardless of how danceable it is. That is why you could still get a soul out of Fela. What is soul music, most times people think it is slow music but soul music is actually any kind of music that connects to your soul.

That is why you have people like James Brown. As far as his music is concerned, he was still the king of soul music to a lot of people. I feel that my music is all about me being able to cut across to the people I can be able to cater for. Regardless of if it is going to be high-life or Afro music.
I am a fan of reggae music. But the thing is that there are certain messages you would want to convey to your audience. Even as you are writing the song, there is a genre that influences the song that you do not even know how you derived it. For instance, I a wrote a song recently about my daughter that I will be dropping in my next album.

The song has 6-8 beat and I have never done a song with that beat before. But when I was thinking about my daughter that was the sound that came to my mind. I recorded it on my cell phone and send it to my producer. He did the beat and send it back to me.

You performance at the concert cuts across all the genres of music. Is it because you do not want to be identified with a particular genre?
I think it is because it comes naturally. Sometimes, I even try to box myself because I feel it is a blessing and a curse in a way when you a bit versatile. What happens is that people sometimes, ask questions like what exactly is the sound. So I try my best to box my music but I just think that it comes naturally. So, I let the music flow as it comes.

You started your musical career as a chorister. When was the last time you sang in the church?
I still worship in my church but I have not sang for a long time now. I think the last time I sang in the church was in 2013. I still sing in my church but not in the choir. However, once in a while I am invited to render special numbers with the church choir. I am a member of This Present House, (T.P.H) Ministry.
I prefer not to be in the choir just because I want to be free. You know we are all human beings and most times, we judge even when we do not mean to. I want to be free in the house of God so that any day I want to cry to my God I lie at the alter and cry without anyone wondering whether this Waje or not.

What would you say the challenges have been so far?
I feel that one of the challenges is being tagged a female musician. The same value attached to the work as well as structure as it applies to the male artistes also applies to the female singers. We put in the same amount of hours in the studio. So, if I am to be appreciated as a musician I just want to be appreciated for my work.
If you want to invite Waje to a show, you said you want me to perform just because you like my work not because may be, you have about six male artistes on the line up, and you just decided to include one female act. I feel like we all work hard. I do not think Beyonce is tagged a female musician.

Are you not being chauvinistic here?
To be honest, this is not all about feminism. It's just the fact. At the end of the day, we all push out the same work. Somebody is not going to be fair to me because I am a woman. A producer will not say Waje is a woman so let's give her 10% discount. I think that is my greatest challenge when people tag us as female musicians while we are all musicians.

Can you share your experience with us as ONE campaign ambassador?
It has been amazing. Right now, it's the highpoint of my career. Sometimes, you draw a plan of where you want to find yourself as a brand. I do not only want to be known as a musician, but also, as a brand that is associated with things that I am passionate about.

Like I am very passionate about women because I have a daughter who has just finished her secondary education and is about gaining admission into the university. So, if I am doing music I must be rest assured that I have done things that can be able to change my environment. That she can as well enjoy a better upbringing and better opportunity that I had.
When ONE Campaign invited me to join them in this campaign I felt it would be good for me as a human being and also, to boost my career. I just got back from South Africa and we performed at the World Economic Forum. If someone had told me 10 years ago that I would perform at such an event, I would tell the person back to sender.
Sometimes, the blessing do not just come in the number of cars or houses that you have acquired. But God positions you in places were you know that eventually you will do something. South African female singers, Miriam Makeba and Brenda Fasie were women that sat with the policy makers and that is the place I will like to find myself.

Has it changed anything about you?
It has actually changed a lot of things about me. If I have to follow that path, there are certain things I cannot take for granted. I cannot live selfishly. I now know that I am an ambassador and there are people that are looking up to me. If I am going to join this campaign because Waje is there, I am probably a Waje follower. If I do not act properly, I will probably lead someone into doing something they are not supposed to do.

So how was it like working with other artistes in the campaign?
It was great because most of the ladies on the bill I have never heard of them before now. But I did my research and found out that some of them are actually big brands in their respective countries. That's good because at the end of the day, we cannot be carrying flags to say we are Africans.
We do not even know ourselves very well. I felt it was very good for me because it forced me to go in search of their music to ascertain their roots. I took the first line and the whole arrangement of the song was done by Cohbams. So, it was not like it was all my inspiration.

Are you in love now?
Yes, I am in love with life.

How soon are you getting married?
Just join me in prayers. I know that when the right time comes you will know about it.

Did you plan to be a single mother?
I was not married, so there is no way I would have planned it.

What was it like to be a single mother?
It has its own challenges. But I guess what helped me was the support I got from my family. My mother is an Igbo woman. After I gave birth to my daught, I went back to school as my mother took care of her. I also have brothers who are close to me and are married, so most times she visits them. I think my family helped me a lot. My mother is my gold, my diamond and everything. She made bringing up my daughter easier for me.

---
For more scintillating and juicy stories, follow the official Naijapals accounts On Twitter - @Naijapals and Facebook - www.facebook.com/naijapals
---
Posted: at 13-06-2015 09:51 AM (6 years ago) | Addicted Hero