Former Super Eagles captain, Vincent Enyeama has come out to speak more about the rift between him and his coach, Sunday Oliseh. Enyeama spoke to Galaxy Television detailing how it all happened. The interview;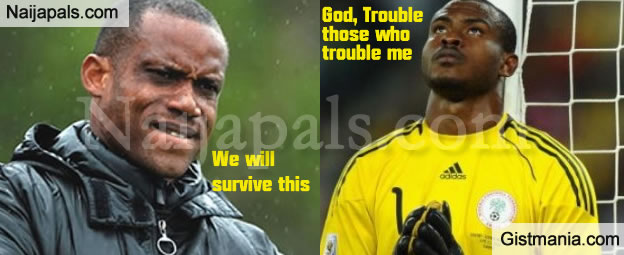 We have heard so much about your rift with Super Eagles coach, Sunday Oliseh. tell us, what has been going on?

First, of all, I want to thank Nigerians. I appreciate the passion, the criticism, everything. I want to say a very big thank you.

On the issue on ground, I think this is not the best way to treat someone who has served the country with so much enthusiasm and so much passion, so much dedication, you know, commitment. I think I have honoured almost all the matches I have been invited to play for the Super Eagles.

So to be treated the way I was treated a couple of days ago, I personally don't accept that.




What really happened in the camp between you and Oliseh? How were treated?

When I came to camp, I had no issues with my coach. The coach has been a big part of me. He is there for me. He fought for me when I had issues with the Nigerian Football Federation (NFF). The coach defended me all the way. I have never had an issue with him.

He (Oliseh) doesn't know me. I don't know him. We have never played together. We have never shared a football field, together.

The first thing that happened when I first arrived at the camp was a meeting. At the meeting, the coach addressed the players. The first thing he said was that he invited four goalkeepers to camp because he never expected me to come to the camp.

Secondly, he said that I was no more the captain of the team. That he had decided and he calls the shots. That was before dinner. He ended his speech with, "Enjoy your dinner".

For me, it was a little bit shocking because I spoke with the NFF chairman (Amaju Pinnick) during the burial of my mother in Akwa Ibom. I was trying to excuse myself from coming to the camp because of the burial. He said, "No, Vincent, you have to be in camp". He pushed me to be in camp. And because I really respect him (Pinnick), I told him I was going to leave everything, the thanksgiving service for my late mum. I told him, I was going to abandon it and come to the camp, which I did.

All the family meetings, everything we had to do with the people in the village, I abandoned all that and came to the camp.

So, for me to get my first welcome message of being stripped of captainship was a little bit not good for me. And after I had taken my food and ate, dinner had commenced. I am just telling you what played out.

I said, "Coach, please, I would like to say something." He said, "No, you can't talk". I insisted that I wanted to talk. He insisted that I can't talk. He then said that if I wanted to talk, he would order the team out and nobody would listen to me and I would sit there and talk alone or I would have to walk out if I insisted on talking.

I said, "Coach, I still want to say something." And he said, "Vincent, get out! You have to leave now. If you don't leave, I'm going to call the cops, the security to throw you out of this hotel." He used the word, "security".

He then got up, went to the door and opened it and commanded me to go out. He said, "Go out, go out, Vincent! Or I am going to call the security."

So that is how it played out?

So, for me to lose my mother, be invited to the camp, only to be stripped of captainship. Then out of argument, to be threatened to have the cops or security called for me, to me, I think it is the height of it.

I have heard all sorts of things that Neymar this and that. They never treated Thiago Silva that way. They never treated Mascherano that way. Some Nigerians can say whatever they want to say, but for me, I feel that's not the right way to be treated.

I am still open for playing for Nigeria till the day I die. Till the day I can stop playing football. Till the day God gives me the grace to stop playing football or to keep playing football. As long as I can play football, I will play for my country. Even at the age of 100, if I can play football, I am still open to playing for Nigeria.

But, now, I just want to go home and be with my family.

Does this mean that after speaking with the NFF, you will seek official excuse to leave the camp?

Yesterday, the coach (Oliseh) came back to the bus and said he doesn't know me, he doesn't want to know me, he doesn't care about me, and he doesn't have anything to do with me.

That is a part of this issue that people don't know because I haven't said anything. I keep my mouth quiet, and I said nothing on that bus.

When he said this, you still trained with the team?

I am still with the team because Pinnick told me to wait till he comes (to Belgium). The president of the NFF told me to wait, that is why I am waiting. I am respecting him. That is why I am still in the camp.

The coach said he doesn't need me, doesn't want me, he doesn't know me. And he doesn't want to know me. So, I shouldn't be forced to play with such a coach.

I don't have a problem with him (Oliseh). He is a great man. He is a a great guy. He is a nice guy. But, I tell you the truth, I just wanna go home and be with my family. This period, I am mourning my mum, I don't want any more problems. Now, people are saying all kinds of things like, "Vincent is stubborn".

I don't know if there is anybody in this world who is treated that way that would not want to know why he is being stripped of the captainship.

I am not so concerned about being captain. I don't have a problem with it (being removed as captain). But, I think I should be given an excuse, a reason why.

I have been playing for Nigeria for 13 years. So I feel if a decision is being taken on me, I think I deserve to know why.

And moreso, I was being invited. I did not come through the backdoor. I was invited.

In my club, in the European Club, if a coach doesn't play you in a match, he comes to your room, or he calls you, or he invites you to his room. He tells you, "You're not going to play today, because I want to field another player". It shows respect.

I have worked so hard for my country. I was part of the success of Nigerian football, then I am being treated like that without being given a chance to express myself. Then, I think that is not fair.

I am feeling so sad. I am feeling really, really sad. Because I would have stopped playing football for Nigeria after the World Cup. But, then, I changed my mind because I love the country so much. I love Nigeria so much. I want her to return to glory. I want to be part of that glory. I want to be part of the pain. I want to be part of what happens in Nigerian football. It breaks my heart that Nigerian football is struggling. But, then, I want to be part of rewriting our story.

But, if the coach and the people don't want me to be part of it, I believe there are better ways of taking me out. You can call me and talk to me. You can send me a message. You can do a phone call. You don't need to invite me to camp, to tell me in the presence of everyone. You don't need to invite me to tell me that you're going to call the cops for me.


I did nothing wrong. I am not an armed robber. I feel bad, I feel bad. I am telling you the truth. I feel really bad. I feel very sad.
---
Posted: at 11-10-2015 07:57 AM (7 years ago) | Addicted Hero