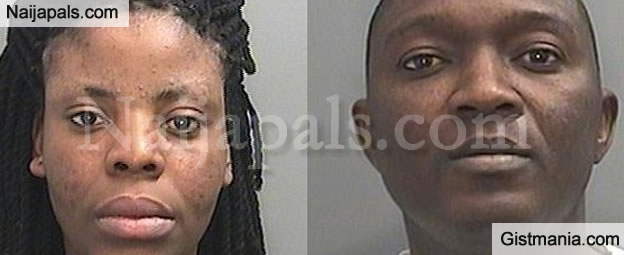 The suspect identified as Lizzy Idahosa, 26, also reportedly made the young women eat live snakes while under her spell. News reports have revealed that a brothel madam who reportedly used voodoo curses to force young girls into prostitution, has been ordered to pay the sex slaves the sum of £20,000 from her profits.



The suspect identified as Lizzy Idahosa, 26, also reportedly made the young women eat live snakes while under her spell. Idahosa has been ordered to pay the ladies £20,000 out of her profits which is reportedly estimated at £186,000, made off the Nigerian women. The reports reveal that the women had been terrified of her with her use of black magic, as well as having been forced to see a witch doctor for a 'juju' ceremony. Idahosa as well as her husband, Jackson Omoruyi, 49, had been arrested at their home in London, while denying the charges but upon police investigation into their bank accounts, which showed a series of transfers with Omoruyi acting as a 'financial middle man,' the arrest had been justified.
The suspect had reportedly claimed to be a victim who had been forced into prostitution after her arrest, denying forcing the women to take part in a black magic ceremony, denying any knowledge of the women's traficking. Idahosa, reportedly heavily pregnant, added that she had made an oath with her trafficker before leaving Nigeria and had been forced to eat the roast heart of a cockerel. The victims aged 23 and 29, had their pubic hair shaved, forced to eat live snakes and snails as part of the ritual before being flown to Britain where they were forced to sleep with men across the country. Speaking on her horrific ordeal, a 29-yr-old victim said: "It was not a big snake, but it was alive. I just closed my eyes and put it in my mouth. "They told me if I messed if up, I would get sent back to Nigeria and Lizzy would kill me. I wanted to stop. I was ashamed of myself and I had no life."
The women had reportedly arrived in the UK where they had been put to work as prostitutes, working in brothels as well as massage parlours across England and Wales.
The victims had been been told they were to give all the money they earned to Idahosa, believing the black magic curses would make them run mad or die if they failed to comply.
Idahosa had reportedly been found guilty of trafficking the women at Cardiff Crown Court and had been jailed for 8 years in November 2014 alongside Omoruyi, with a 2-yr sentence.
The prosecutor, Eugene Egan revealed to Cardiff Crown Court that investigators had only found £21,900 in Idahosa's bank accounts.
---