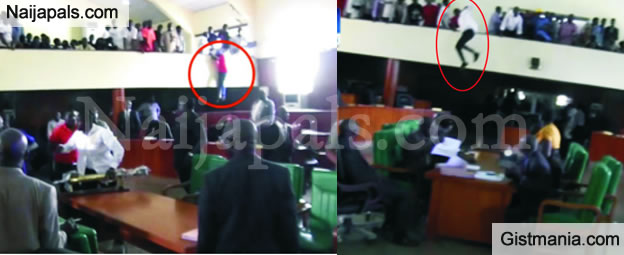 The Edo State House of Assembly on Tuesday was in commotion after some 16 lawmakers impeached the Speaker, Victor Edoror of the House and the deputy The 16 Assembly members appointed Mrs. Elizabeth Ativie in place of the impeached.
At plenary, convened without the speaker, the lawmakers put forward allegations of incompetence and highhandedness. Another dimension to the issue erupted when the Victor Edoror arrived with some supporters.
One of the supporters jumped from the gallery quickly took hold of the mace and dropped it on the stand, insisting that that was the right time to begin the plenary

The two contenders, the newly appointed speaker, Mrs. Elizabeth Ativie and the purportedly impeached speaker were also seen battling over the seat. Victor forced Mrs. Ativie off the seat.

---