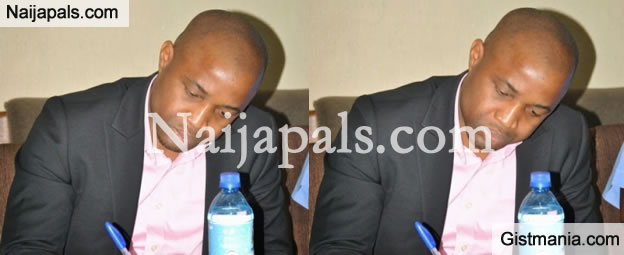 Popular Ibadan-based broadcaster, Edmund Obilo has finally called it quits with the Splash 105.5FM Radio Station based in Felele, in the same city. Obilo, who was one of the pioneer on-air personalities at the wave making broadcasting outfit finally cancelled his contract with the High Chief Adebayo Akande-owned outfit in the afternoon of Monday, June 13, 2016 after what sources called 'valedictory meeting' between both parties.
Signs that things were not well with Edmund and the owner of Splash FM started showing as far back as two years ago, it was gathered.
That things would break down finally manifested on Saturday, June 11 when Governor Abiola Ajimobi was at the station to be part of Edmund Obilo's popular 'Voices' programme. Obilo was nowhere to be found!
The governor, who apparently had been invited to the station by the youthful Edmund was livid with anger. When he was officially informed that Obilo would not be 'showing face' or making any kind of appearance, Ajimobi, who was oblivious of the internal politics going on announced on air that "Obilo should be here. He is instrumental to my being here. That I am here and he is not here is a sign of disrespect to me and my office."
A source informed us that Obilo resigned a day before the Saturday programme. This development was triggered, according to an insider source by the 'frosty relationship' Edmund endured with the daughter of the proprietor of the station, Bisi.
A source revealed that "Bisi and Edmund are always at war. She is always holding him practically by the throat. Obilo resigned on Friday to put a final end to the unending rivalry. Baba Adebayo Akande has always been good to Edmund and most of us. It is Bisi that is the problem. Obilo could take it no longer, hence, his decision to quit."
Another insider source informed us that an Ibadan-based top media outfit that Bisi, on her part queried Obilo on the issue of 'contents'.
"Obilo runs his interviews on his website, soundcloud.com and this is not making Bisi, who is the Chief Executive of Splash FM happy. Obilo contested the ownership of the contents and finally, they could not agree on this. Obilo had to quit. Who knows, maybe Obilo will be back if, one day, they can agree on ownership of contents and other issues."
Meanwhile, we were reliably informed that the highly erudite and talented broadcaster may pitch his tent with Yinka Ayefele, MON, who runs one of the most vibrant radio stations in Ibadan which he calls Fresh 105.9FM Radio Station. He runs the outfit from his Music House, Challenge, Ibadan.
Obilo, who started off at Radio Nigeria as a sports reporter, was not available for his own side of the story but Yinka Ayefele called us back after he missed our calls. However, he denied having any discussion with Obilo saying "Obilo is my very good friend. Is he resigning from Splash FM?" he asked.
---
Posted: at 14-06-2016 04:50 PM (7 years ago) | Addicted Hero