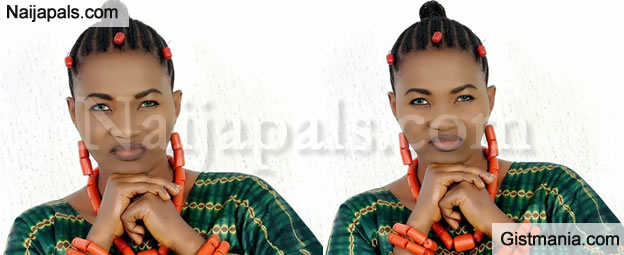 Kemiashefonlovehaven can authoritatively claim that popular actress, Yewande Adekoya aka Kudi Klepto is still in Atlanta Georgia in the United States of America. This is coming after series of blatant denials by the actress on her social media accounts—Facebook and Instagram.

According to sources in Atlanta, Yewande whose passport has been seized by the police authorities in the US cannot be in Nigeria as claimed by the actress and her husband, Abiodun.
KemiAshefonlovehaven, on Tuesday exclusively reported that the Nollywood actress was placed under arrest for bank fraud in the US.

Responding to the allegations, Yewande and her husband shared on Instagram on Tuesday night,a video where she claimed to be in Nigeria and even on LTV 8 premises! She also released a statement on her page stating she is in Nigeria and has not travelled abroad this year.



Quote

"Is that the kind of video to release for such grave allegations? Its shoddy lacks substance and her husband is the one doing that on social media. Unfortunately for the couple (Yewande and Abiodun) they are adding more to their woes. Yewande should come out with her family and make a proper video and share Christmas family photos as other celebs have been doing, if she is truly in Nigeria,"

a source in Atlanta said.

How did the popular actress land in trouble with the Atlanta Police? Who are the 'Yahoo Big Boys' who used her account to transact over $3million? The deal backfired when her bank raised the alarm to the police on the huge amount— 10 transactions totaling over $3million!

Though the Atlanta 'Yahoo Boys' have promised her huge amount of money from the transactions, all the money she realised from the 'Yahoo boys bank fraud' have been taken over by the Atlanta police authorities.

However, many Nigerians in Atlanta are not ignorant of Yewande's arrest, her release from Atlanta jail and her current house confinement. At some points, they helped her hire lawyers who are still working on how to prove her innocence.


Is Yewande innocent?


Quote

"She foolishly fell prey to the hands of those Internet fraudsters who use bank accounts of others including Nigerian actors to perpetrate their crimes. They disguise as promoters who organize events abroad and invite artiste/actors to come over for either awards or shows. Yewande Adekoya could be innocent and must have fallen for the huge commissions promised her by those guys. She needed the money to shoot a film she plans to hit the cinema in April 2018. She did part of the film production in Atlanta and even filmed in some Nigerians' homes,"

Kemi Ashefon Ovehaven's source revealed.

Popularly loved by many of her fans for her roles in movies, Yewande was said to have been in tears when police stormed the home of her host in Atlanta and arrested her.
The award-winning actress, who is married to actor and movie producer, Abiodun Thomas, is ordered to home arrest and instructed to surrender her passport while investigations are still ongoing.


Quote

"She should keep quiet and stop embarrassing herself. If she is innocent of the bank fraud allegations, she should consult the Atlanta police and let them talk about her innocence.
"Her account was used to make some suspicious transfers in the United States and she was arrested for questioning. This is no new practice among some Nigerian actors and their foreign fraudulent promoters who use them for such crimes and they get huge cuts from such deals,"

sources said.
Kemi Ashefon covehaven has sent an email to the Atlanta Police Department and awaiting response
---