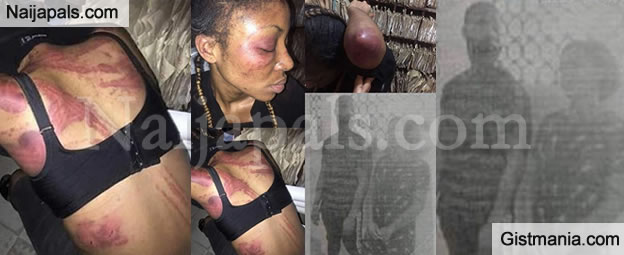 A couple has been arrested by the police and are currently undergoing interrogation after allegedly beaten up their sister-in-law for infidelity. According to Reporter, Bela (the victim) who is married to Amsterdam-based Felix Omeneka, brother to Kelly, was beaten to a pop by Kelly and his wife Mercy in their family home in Ajao Estate over the weekend.

The bad blood allegedly began after Felix instructed Bela to go live in his family house, shortly after their wedding in 2016, even though it did not sit well with her. No sooner than she moved into the family house than the battles started between herself and her brother and sister in law-Kelly and Mercy.

All hell was let loose over the weekend when Bela discovered that some of her belongings were missing, Approaching Mercy to enquire about them, degenerated into a physical combat between the sisters-in-law.


Bela says:

Quote

"Kelly did not separate us. Rather, he went for a horse whip and started flogging me all over my body and at the same time, hitting me in the ribs. He accused me of bewitching his brother to the extent that he does not look at the face of another back in Europe.
A member of the family called and instructed them to seize my marriage certificate so that I won't have any vital document to prove that the union is legal. Kelly also seized my phone and dragged me out of the building.
All I could remember at that point was seeing an oncoming car approaching the direction he dumped me as I passed out."



According to the victim, she says the brother-in-law later unlock the gate around 4am Only to order her to move out of the family house on the grounds of marital infidelity.
Says:

Quote

"He told me that they had a directive from their mother not to allow me in until I went to the village to swear an oath of fidelity. It was a concerned neighbour that later put me in a cab that took me to my sister's place, from where I was rushed to the hospital."
Problem with this article? Please contact us
---