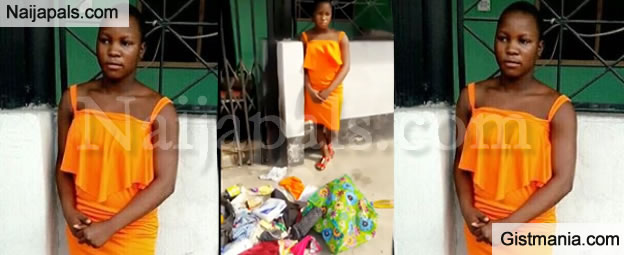 A 10-year old house maid simply known as Onyinyechi, was brutally beaten and sent away after she was caught peeping at a couple while they retired to their matrimonial bed at night. The incident happened at Adekoroye Street in Ejigbo area of Lagos where the couple resided with the maid and their children.

The maid claimed that the crying of her madam, Mrs. Esther (surname withheld) whenever she retired to their matrimonial bed with her husband usually woke her up at night and she tried to find out. She said that she had thought they used to fight and sought to gain access to the room to separate them but the door was always locked from inside.

It was gathered that the couple expressed their surprised when the wife caught Onyinyechi standing in front of the link door between their two bedroom apartment at about 1am.

According to Mrs. Esther, she opened the door to check the condition of their children who had already gone to sleep with Onyinyechi before they retired to their bed. She said that she was surprised when she opened the door and met Onyinyechi standing in front of the door at that hour. She suspected her, threatened and she confessed.

It was gathered that the couple who got married some years ago and had two children agreed to look for house help to assist the wife in domestic works. The wife then contacted her mother who resided in Onitsha, Anambra State, to help look for a house help for them and Onyinyechi was brought to them in February, 2018.

The couple never knew that the little girl had not been sleeping because of their activities in the bedroom which usually woke her up. They got to know when the wife caught her and insisted to know why she was still awake at that hour of the night after threatening to kill her if she did not reveal that. It was then that the girl opened up; she said that since she came to the house whenever they were fighting, that she was always peeping through the key hole to know how they were fighting but could not do anything because the door was always locked. Her madam asked her what she thought they were doing at that period and she replied that she had always thought that her husband was beating her.

Mrs. Esther broke down, gave her serious beating but she was prevented from further assaulting her by her husband who sent her back to her mother in-law and informed her that they do not need such a maid.
---
Posted: at 9-07-2018 10:33 PM (3 years ago) | Hero