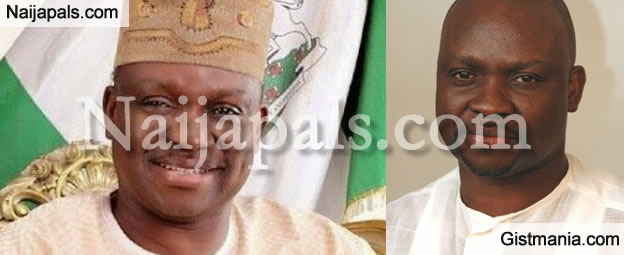 The anti-graft agency has secured a two-week remand order that is subject to a renewal if requested. A Federal Capital Territory High Court has empowered the Economic and Financial Crimes Commission (EFCC) to keep former Ekiti State governor, Ayodele Fayose, in detention for two weeks.
The former governor gave himself up to the anti-graft agency on Tuesday, October 16, 2018, facing allegations of receiving N1.3 billion from the office of former National Security Adviser, Sambo Dasuki, in the run-up to the Ekiti State governorship election in 2014.

Fayose made a show of turning himself in on Tuesday as he wore a shirt with "EFCC, I'm here" inscribed on it, and also carried two packed bags as he earlier said he was prepared to be detained.

According to a reporters, a source disclosed that the anti-graft agency has secured a two-week remand order that is subject to a renewal if requested.


Quote

"We have obtained a court order to hold Fayose for at least two weeks pending investigation. He could be released earlier or later than two weeks depending on the outcome of the investigation,"

the EFCC source said.

However, Fayose's lawyer, Mike Ozekhome (SAN), said the anti-graft agency will be sued for breach of fundamental human rights if Fayose is not released on Thursday, October 18.

He said the former governor is not a flight risk and should not be indiscriminately detained for questioning especially since he willingly surrendered.
He said,

Quote

"His lawyers will consider approaching the court for the enforcement of his fundamental human rights if he is not released on Thursday. Section 35 and 36 of the constitution are clear on this.

"He is not a flight risk. He willingly submitted himself to the EFCC even earlier than the time he was supposed to come. What the EFCC is doing is nothing but media trial.

"From the way they have been chasing Fayose in the last three years, one would have expected that the EFCC would have completed its investigations and would arrest him immediately his tenure expires and charge him the next day but that is not the case.




Quote

"They want him to write a statement by force and then use the statement against him instead of using their own evidence."



How Fayose allegedly received N1.3bn from Obanikoro
According to a fact-sheet obtained from the EFCC and published by The Nation in August 2018, Fayose received $5.377 million and another N1.3 billion (through a proxy) from then-Minister of State for Defence, Musiliu Obanikoro, to help his re-election campaign in 2014.

The sheet read,

Quote

"On his part, Fayose was allocated N1.3 billion and $5.377 million (at the exchange rate of N168. The $5,377,000 was handed over in cash by Obanikoro to Fayose while the N1.3 billion was received by Fayose's associate, Mr. Abiodun Agbele, in the presence of the ex-Minister's Aide-de-Camp, who also accompanied them to the bank along with bank officials.
"From the $5 million, Fayose gave his Personal Assistant, Agbele about $1 million, which he exchanged to Naira and paid for properties on behalf of the governor. Detectives suspected that Fayose added more of the N1.3 billion cash to what he gave Agbele to buy the affected assets.

"The properties worth N1.8 billion purchased with the said proceeds of crime have been recovered from Fayose and his sister, Moji Ladeji. These assets include four in Lagos (N1.1 billion) and two in Abuja worth about N500 million to N700 million.

"But Fayose has been claiming that he used his company, Spotless to obtain a loan of N120 million from Zenith Bank as part of what he used to buy one of the properties in Abuja. We are already tracking how he disbursed the N1.3 billion.
"A prima facie case has been established against Fayose but he is enjoying immunity from prosecution as enshrined in the 1999 Constitution. He will, however, face trial as soon as he hands over power to his successor.
"But the association of the governor, Abiodun Agbele, has been charged to court accordingly."



Fayose's other 'sins'
Fayose is also believed to be under probe for allegedly receiving bribes from various contractors as Ekiti State governor. He is alleged to have used fronts to acquire properties in Lagos, Abuja, and other places with bribes from said contractors.

The EFCC is also believed to be investigating the former governor over another alleged N1.3 billion fraud at the Ekiti Integrated Poultry Project Biological Concepts Limited.
---