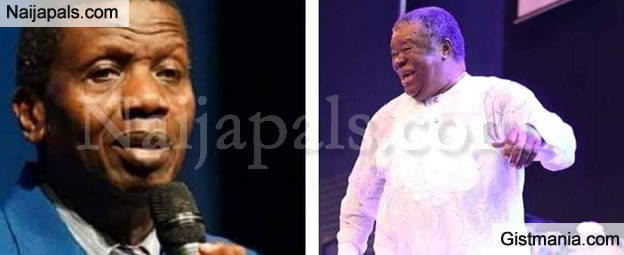 RCCG general oversear, Pastor E.A Adeboye has disclosed that his has a spiritual father who happens to be Dr. Uma Ukpai.

Dr. Uma Ukpai is a Christian leader, an evangelist, and a preacher. He is the founder and president of Uma Ukpai Evangelistic Association, a nondenominational gospel ministry based in Uyo, Akwa Ibom State.



Rev. Dr. Uma Ukpai is, one of the most anointed and highly outstanding ministers of our generation. He speaks across the world extensively on issues of salvation, faith, healing, breaking of curses and covenants, and spiritual leadership.

Nigerians are asking how can the man they call their spiritual father to have a spiritual father too. The answer is to be great and powerful, you must have a mentor.

See Daddy Adeboye's comment when preaching;

*I want to show everybody today that i have a Spiritual Father, his name is Daddy Dr. Uma Ukpai!*.

See reactions;

Kai! My Daddy is calling somebody Daddy!!!.

*Dr. D.K. Olukoya said in 2007 that; One of the men of God I feared in this generation is Dr. Uma UkPai!*.

When i heard it(this time), i went to the Cyber Cafè to search this man of God that my Fathers in Faith have high regard for!.

When i saw his picture, hmmmm, i concluded that "there is nothing to be desire of him".

He is a silent fire!.

I read through his profile and i saw something like this;...

Jesus appeared to me and told me to stop fasting till I return home!.

*Jesus told me, "Son, your fasting is too much"!*.

Yeah!!!!

The moment i left the Cafè, i went ahead to tear all the love letters i use to help my friends to write(in exchange for money).

I was crying...

My heart beats faster!.

Those words are like fire!.

I learnt that this man of God in question(When he was much younger) will go to uncompleted building to pray, his siblings will bring food so as not to die, but when they return, only to meet the food untouched when they come with the next batch of food!.

These went for days...

Weeks will pass by, yet, he is still waiting on God.

There was a day, robbers came to his domain and gave him acid to drink so that he will die.

He grabbed the acid and thank God that he has seen something to break his 7 days dry-fast.

After 10 minutes, the assassin were expecting their desired drama, but he was whistling in his favourite Igbo song!.

The robbers went on there kneels and begged for forgiveness as they surrender thier life to Christ!.

Do you know that Daddy Adeboye fast 3 days dry every week and 90 days before every convention?.

*Mummy Adeboye and Children said, they can count with there fingers how many times their Daddy eat in a WHOLE YEAR!!!*.

Do you know that Dr. D.K Olukoya fast 7days dry for every PMCH and has not eaten breakfast since 1978?.

*Do you know that Dr. David Oyedepo pray for 3-days-stretch with dry fasting before every Shiloh?*

Sir, i notice that the men that CARRY the anointing today has a culture;.

*The praying and Fasting Culture!*.

They don't joke with the WORD too. .
Never!.

When will I and you start praying these price?.

Your highest quality time of devotion is 7 minutes as you reply your customers and friends on WhatsApp in-between these 7minutes?.

In 2013, the assignment the Lord gave you was to memorize Psalm 91, but you only know 1 verse out of 16 verses.

All the bible verse that remain in your "sanctuary" is the remaining of those ones that refuse to escape since your teenage years just as an evidence that somebody laboured over your teenage years!.

Now, you are praying for POWER?.

My Brother, you have a 7 years carry-over course to write in the school of the Spirit.
Except you pass that assignment, you are not going anywhere!.
---
Posted: at 10-01-2020 06:47 AM (1 year ago) | Hero