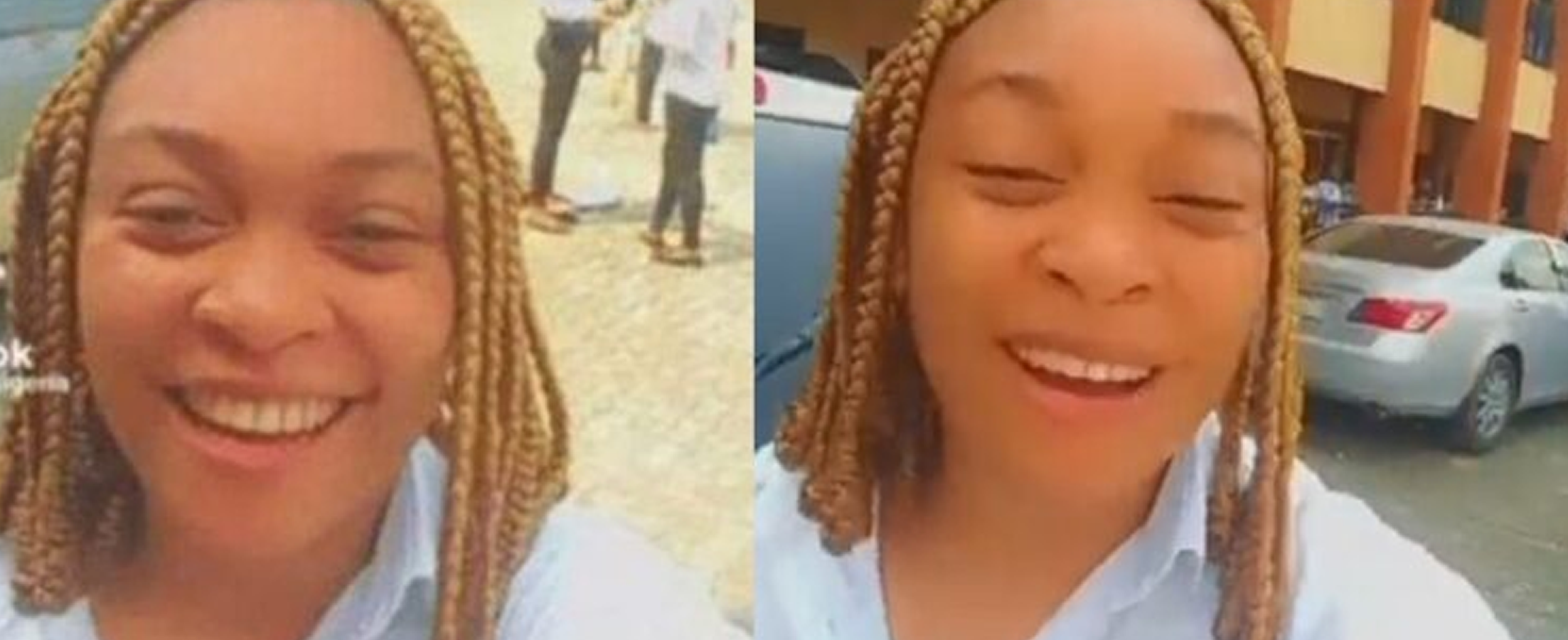 Ogechi Okoroafor, the embattled 28-year-old graduating female student of the Federal Polytechnic, Nekede, Owerri, Imo State, has appealed for forgiveness.

She made the appeal in an interview with The Punch.

Okoroafor received heavy backlash on social media after making a video in which she credited God and her private parts for the successful completion of her academic programme at the institution.

After the video went viral, reports emerged that the Business Administration student would face the school disciplinary panel.

Okoroafor, in a letter to the institution, said she wanted to say her father and God helped her to graduate from the Polytechnic.

The letter, which was written by her lawyer, Ikechukwu Nwaopara, on her behalf said that his client's comment was a slip of tongue.

In the interview, Okoroafor said that the video has brought her unwanted attention and has made his slip into depression.

She said,

Quote

"The whole thing was blown out of proportion. I never meant to say God and my pu**y made me a graduate. It was a mistake, a slip of the tongue. I was carried away by the euphoria of the moment; the joy of becoming a graduate after years in the school. I spoke out of excitement and gratitude to God, my family and everybody who supported me in the academic adventure.

"What I intended saying was that God and my popsy (slang for father) made me graduate. My father and God are the major influences in my life.

"As my father's only daughter and the last child, I am too fond of him. We are very close. He is so dear to me. My intention was to say God and my daddy, which we call popsy, made me a graduate. I don't know why people, especially journalists, are blowing it out of proportion."

Asked if she has ever slept with any lecturer or staff of the polytechnic for grades or academic favours, Okoroafor said, "How can I? Never! Who doesn't know that Federal Polytechnic, Nekede, Owerri, is one of the best polytechnics in Nigeria in terms of academic excellence and strict adherence to moral standards? Our rector is a priest of the Anglican Church and a moralist. Our lecturers are intellectually and morally strict. You are a journalist; take your investigative journalism to my school and department and ask questions about me. I am a very serious student. I attended lectures, I did my independent assignments and participated fully in group assignments. I was a serious student. I am not a wayward girl."


She confirmed that the school management summoned her.

"I was summoned this week. I appeared before a panel in the school. The video was played to me and I was asked to react. I told them it was a mistake and that I was deeply sorry by whatever my mistake had caused the school. I apologised to them and I believe they saw how remorseful I was. It was never my intention to do anything that would impeach the integrity of the school. I know products of our school are respected all over the world and I wouldn't do anything that would tarnish the hard-earned integrity of the institution," Okoroafor said.
Posted: at 4-02-2023 06:02 PM (1 month ago) | Addicted Hero