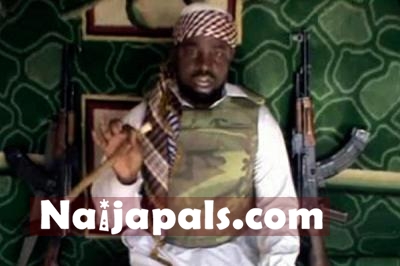 Abubakar Shekau, leader of the notorious Islamist Militant group Jama'atul Ahlu Sunna Lidda'Awati wal Jihad, otherwise called Boko Haram narrowly escaped arrest last Monday but his wife was not very lucky as security operatives captured her.

Pointblanknews.com top security sources said Nigeria Security forces stormed the hide out of the leader of the Islamic gang around Maiduguri and Chad border in an attempt to arrest the Boko Haram leader after a tip-off.

Shekau was said to have narrowly escaped operatives, leaving his wife behind who could not beat security tactics.

According to the source, Shekau and wife have been hiding in a remote village within the border area for quite some time.

Pointblanknews.com gathered that the Boko Haram leader escaped few minutes before the combined team of security Forces following a tip-off got to his hide out.

Sources confirmed that the arrested wife of the Boko Haram sect whose name could not be ascertained as at press time has been moved to an unknown location within the country for interrogation.

Efforts to reach Marilyn Ogar, spokesperson of the Department of State Security, DSS were futile.

Only recently, security operatives said that a person suspected to be the man who goes by the alias Abul Qaqa have been arrested.

Abul Qaqa has claimed to speak on behalf of Boko Haram on numerous occasions, including claiming responsibility for scores of attacks in Nigeria.

The purported spokesman had regularly held phone conferences with journalists in the northeastern city of Maiduguri, Boko Haram's base.
Published at:
07:50 PM, 9/05/2012 (6 years ago)
Author:

Akeem Jaffe Jaffa
Problem with this article? Please email reporter[at]naijapals[dot]com or visit our contact page
---
---