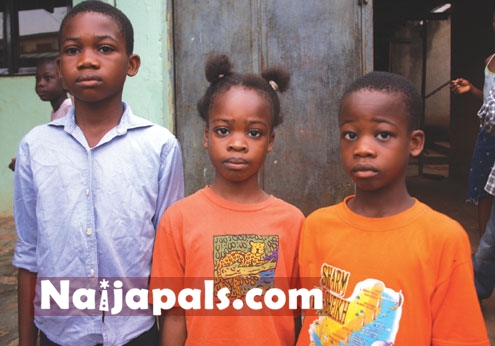 Lagos State governor, Babatunde Raji Fashola bringing hope into the lives of children orphaned by Dana Air plane crash on June 3, 2012

Outside the one hundred and fifty three people that lost their lives in the Dana Air crash of Sunday, hundreds of peole on ground may have also been sent to their early graves, when the aircraft slammed into their homes. The Airline actually renedered three children of the same parents orphaned. The children escaped death because they had gone on an errand for their now parents Mr.Jeremiah and Mrs. Josephine Okechukwu. They returned minutes later to find their parent buried under the rubbles of their crumbled building.

Since then, the children namely Joel, Chison and Esther Okechukwu all under the age of twelve have been wandering around the neighbourhood, until help came their way through governor of Lagos State Babatunde Raji Fashola. The governor as soon as he got wind of their plight, commanded his aides to take them to the government house in Alausa, Ikeja, Lagos Nigeria for proper care pending when their parent`s relatives will come for them ;

Timeline of fatal plane crashes in Nigeria

November 20, 1969 – Nigeria Airways BAC VC10 crashes on landing in Lagos, killing 87 on board.

January 22, 1973 – Royal Jordanian Airlines Flight 707 crashed in Kano. All 171 Nigerians returning from Mecca and 5 crew members died.

March 1, 1978 – Nigeria Airways F28-1000 crashes in Kano, killing 16.

November 28, 1983 – Nigeria Airways F28-1000 crashes on approach in Enugu, killing 53 on board.

July 11, 1991 – Nigeria Airways DC-8-61 crashes in Jeddah, killing 261 on board.

September 26, 1992 – Nigerian Air Force A C-130 plane crashes minutes after take-off from Lagos, killing 200 on board.

June 24, 1995 – Harka Air Services Tupolev 34 crashes on landing in Lagos, killing 16.

November 13, 1995 – Nigeria Airways Boeing 737-2F9 crashes on landing in Kaduna, killing 9.

November 7, 1996 – A Nigerian ADC Airline Boeing 727-231, flying from Port Harcourt to Lagos with 142 passengers and 9 crew members
crashed on landing, plunging into a lagoon with all on board killed.

January 31, 1997 – SkyPower Express Airways Embraer 110PIA crashes on landing in Yola, killing 5.

January 5, 2000 – SkyPower Express Airways Bandeirante 110P1A crashes on landing in Abuja, killing 17.

May 4, 2002 – Nigerian EAS Airlines' BAC 1-11-500, with 105 people on board, crashed and burst into flames in a densely populated suburb of Kano. 76 on board killed, including 72 on the ground bringing it to a total 148 dead.

October 22, 2005 – A Nigerian Bellview Airlines Boeing 737 airliner, with 117 people on board, crashes and disintegrates in flames shortly after take-off from Lagos. All on board were killed.

December 10, 2005 – A Nigerian Sosoliso Airlines DC-9 crashes in Port Harcourt, killing all 103 on board. Most of the victims were schoolchildren going home for Christmas.

September. 17, 2006 – A Nigerian 18-seater Dornier 228 Air Force transport plane, carrying 15 senior army officers and three crew members, crashed in Benue leaving only three survivors that sustained serious injuries.

October 29, 2006 – A Nigerian ADC Airline Boeing, 737 with 104 on board, crashes minutes after take-off from Abuja's airport during a rain storm. All but 6 perished in the disaster.

Posted: at 5-06-2012 09:16 AM (9 years ago) | Upcoming