Singer Dencia And Writer Kola Boof At War

Nigerian-Cameroonian singer, Dencia and Ethiopian-American writer, Christian hater and gay activist, Kola Boof, are celebrities in their own rights and whenever they decide to take on themselves, it will surely make frontline news.
And this time, their Twitter war is getting messier and interesting at the same time. Dencia who recently launch a skin whitening cream and has been marketing them all over the world, must have incurred Kola Boof's wrath when she replied to the former mistress of terrorist, Osama Bin Laden's tweet about losing her identity by trying to be whiter than an African.
This is what Dencia said via her Twitter handle:


@IamDencia: "Dear Kola Delusional Boof, I'll take u seriously when you can buy a strong bra 2 hold yo Saggy Ass titties. i ain't no Kimora @KolaBoof."


That was when all hell broke loose. Ms. Boof saw Dencia's reply and since then, the controversial singer has been on the receiving end of some scathing, mocking, derisive and abusive barrage of tweets from the American writer.
Here are some of them as we will keep updating them as they come.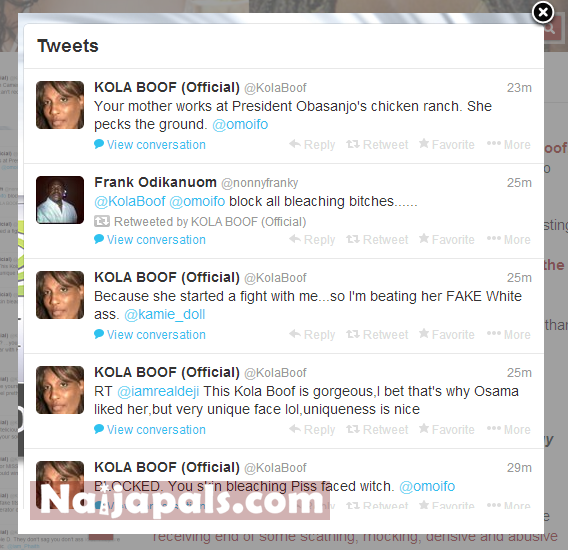 ---
Posted: at 16-01-2014 01:08 PM (8 years ago) | Hero