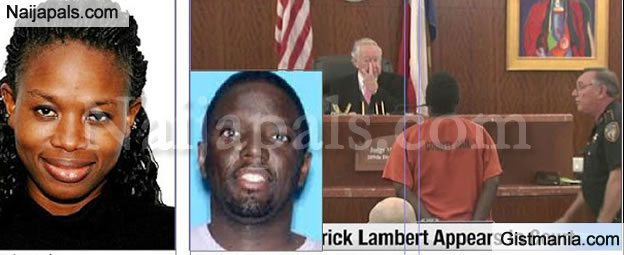 A Nigerian woman Anastasia Oaikhena-Lambert was in 2014 stabbed to death by her husband Patrick Lambert, a black American in their home in the US. To escape suspicion and prosecution, he packed her into a refrigerator and fled with their 11-month old baby, Achilles. Over one year after, Medinat Kanabe, who visited her parents' home in Lagos reports.




In December 2014, the news of a Nigerian woman who was stabbed to death by her husband in their home at 10555, Fondren, Southwest Houston, United States of America and their missing 11 months-old child broke.
A foreign newspaper report read: "The man accused of killing his wife and stuffing her body in a refrigerator appeared in downtown court Monday morning. Patrick Lambert had his charges read against him. He was found in Mexico after fleeing with his 11-month-old son.


"Police found the body of Anastasia Oaikhena-Lambert in a refrigerator at 10555 Fondren in South-West Houston. In an affidavit obtained by Local 2, Patrick Lambert is accused of killing Oaikhena-Lambert on September 26. Her body was not found until December 8, 2014, when maintenance personnel received reports of a foul odour coming from the apartment.


"According to a statement read in court, before moving to Houston in February, Oaikhena-Lambert reached out to a local women's shelter for help, while living in Hawaii. The request documented that she'd been suffering from mental, physical and sexual abuse from her husband.

"Oaikhena-Lambert wrote a hand-written letter to the shelter, outlining her reasons for moving to Houston. They included claims of infidelity and what she believed was a veil of secrecy her husband had been living under. She moved out of the local shelter and into an apartment in June. The last time anyone heard or saw Oaikhena-Lambert was on September 26, a few weeks after she had called Houston police claiming Lambert had threatened to kill her with a knife. She never filed charges.

"Investigators say she died of stab wounds to the neck. Lambert is charged with her murder." It has been a year and six months since she was buried but her family is yet to get over the trauma.

Their home, located in Ketu, a suburb of Lagos wasn't difficult to locate. It also didn't take long for this reporter to discover that, Anastasia's father goes by the alias "Baba Bendel" in his Yusuf Oyero Street neighbourhood. This reporter was however shocked to see the very big living room in a sorry state. The chairs had gone out of use; the cottons were begging to be changed; and one was only left to wonder how the home was when tragedy had yet to befall the family and the going was good.

The head of the house welcomed the reporter from a far end of the house where he was seated; while the wife, Anastasia's mother, who sat on one of the cushions, muttered a greeting.
Baba Bendel began his story on a nostalgic note, though rather quietly. "She has been very instrumental to our living. She pays our house rent but now she is no more."
He noticed this reporter was moving close to hear him well, and then explained in a low tone that, "I don't want my wife to hear what we are saying; it will leave her in a worse condition for weeks."

He continued his story, but by now, tears have begun streaming down his cheeks. "They met through the internet and the bastard American boy asked her to come to America, which she did. She read BSc Journalism in Thailand.
She was still in Thailand when she met him via the internet. She asked for money to come to America and he sent it; he even sent her money while she was at the airport to get to his apartment. Both of them were keeping us informed about their progress in the relationship and we were happy for them.

He would call me and say "Daddy, I have found my love" and that he would take good care of her. She in turn would say "There is no problem" and that both of them were happy together. Their excitement for each other was such that you could never have imagined that he would one day kill her.
Asked if she ever complained about him before her death, he said: "Yes, she called me many times to complain that this man was abusing her and each time it happens, he prevents her from reporting by begging her to forgive him.


"She also said whenever she collected her salary; he would demand for it and force her to give him a huge part of it. She was receiving 50, 000 dollar a year from the American government for a scholarship she got to do her Masters. She later took the decision to leave him, which she did by leaving him in their apartment in Texas and relocating to Houston. I don't know how he managed to meet her up again in Houston. Her intention when she settled in Houston was to prepare for her younger brother to come to Houston and live with her and her son, but this bastard killed her before she finished arrangements for any of these.


"When she told us that he was back again with her in Houston, we began to call her regularly, but after a while her phone was not going through. I knew inside me that something was wrong, so I kept calling. Sometimes the whole family would be in the sitting room trying to reach her but the phone would not go.
We later sent a mail to her but this idiot (pointing at Patrick's photo) replied saying everything was fine, not knowing that my daughter was dead.


It was three days later that we got the report that she was dead from a relative in Germany who sent a printed copy of the information to us.
My daughter was very brilliant and respectful
Asked what kind of a daughter she was, he said: "My daughter grew up fine with us, she was very intelligent; that was the reason we decided she should school abroad. I raised over 1.5 million naira from my black oil business in Ikeja to send her abroad to conclude her BSc programme."


Now weeping profusely, he said: "I remember when she wrote her GCE in SS2 and passed all her papers, I took her to the market myself and paid for everything she picked because I was very happy. She then got admission into the University of Port-Harcourt to study Mass Communication; she was already there before we decided to send her abroad. She attended Appolo Secondary School and was one of the most brilliant students there. She was a very respectful child, and humble.


"Right now, I am no longer strong and cannot work. I am also very sick. I almost went blind in the past, so I cannot take care of the house again."
"Look here," he said, bringing out a small bowl that contains different eye drops and medicines. "Look at this one, I always watch the time to make sure I apply it every four hours. My wife's case is worse. I take her to the Igbobi hospital at Fadeyi, Lagos almost every day for check up. She used to be very fat, fatter than many other women, but now she is like a shadow of old herself. She is very depressed."


This reporter noticed that the woman only said three words in her local dialect that sounded like "I do do, eh, I do do," which her husband confirmed to be part of the depression.
Stressing that he wants his grandson to be sent to him in Nigeria, Mr Oaikhena said: "I have been to America High Commission in Walter Carrington two times, but I was told to go to America. They said they don't have anything to do with it. I was directed to citizens department, where they checked and agreed that she is a citizen but insisted that they cannot do anything. How will I even go, will I trek? I don't have the money.


Asked if he was contacted by the US when the incident occurred, he said no. "Nobody contacted me, which is part of my annoyance. The only time they contacted me was when they wanted to bury her. I received a form from the American government to fill so that they can bury her with my consent, which I filled and sent back to them.
She was buried on December 10, 2014. They asked me to come for the burial, but I did not go. I want the world to know what happened to my daughter; I want America to know if they didn't know already. What I plan to do next is to go to the National Assembly with a big placard with inscription "Americans killed my daughter" on my chest. I will not stay or sleep in a hotel because I don't have the money but I will stay in front of the National Assembly gate until someone attends to me."
The father of seven, who has now lost two children, said his landlord has been calling him for house rent, but says he cannot pay now. "We are managing to survive," he said.
He called on the government to assist him to get justice for his late daughter and her two year old child. "I want to sue America $500m for the killing of my child and $25m for the training and upkeep of the boy."
The 67 year-old man, who no longer speaks coherently took another look at the paper that has the picture of his daughter's murderer, his daughter and their son and murmured: "Oh this bastard boy, how I wish I could see you. I will eat you raw with my teeth after drinking your blood."
25 year-old Anslem Oaikhena younger brother to the late Anastasia who spoke to The Nation said his sister was very caring, jovial and nice to a fault. "She can do anything for you, as long as it is possible."
When I heard that she was preparing for me to come over, I was very happy. If not for what happened, I would have been with her and schooling. I had to swallow the bitter pill and set another plan in motion for myself. I am now doing a Distance Learning programme with the University of Lagos. I want the government to intervene in this matter, so that we can get justice and also have the little boy back.


Brickwall at the US Embassy

Meanwhile, efforts by this reporter to get a reaction on the matter from the United State's Embassy proved futile, as the officer who responded on phone said the matter was too sensitive, hence he could not comment on it.
---
Posted: at 7-03-2016 08:06 AM (4 years ago) | Addicted Hero