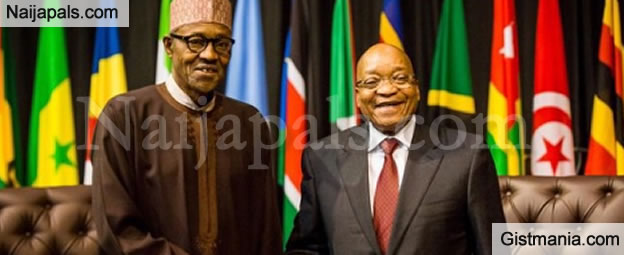 Speaking at the Aso Rock Villa during a joint press conference, President Muhammadu Buhari, on Monday, gave visiting South African President, Jacob Zuma a shocker when he narrated how his country's telecommunications firm, MTN, aided the Boko Har­am terrorists to kill innocent Nigerians.
Buhari told Zuma who came to Nigeria with a large contingent of businessmen to ex­pand trade relations with the host country, that had MTN promptly responded to the Federal Government's directive to register all its network users in Nigeria, the terrorists would not have enjoyed coordinated com­munications in carrying out their attacks on their victims.
Buhari's indictment of MTN was prompted by a South African journalist's question on the extent of negotiations on the N780 billion fines the Nigerian Communications Commission (NCC) imposed on MTN.
The President, however, said that Nigeria was more concerned about the security implications than the fine. He said:
"This is the first time I will personally as President make a public comment about it; the concern of the Federal Gov­ernment is basically on the se­curity and not the fine imposed on MTN. You know how the un­registered GSM (cards) are being used by terrorists. Between 2009 and today, at least 10,000 Nigeri­ans were killed by Boko Haram.
"That was why NCC asked MTN, Glo and the rest of them to register GSM (cards). Unfortu­nately, MTN was very, very slow and contributed to the casual­ties; and NCC looked at its regu­lations and imposed the fine," Bu­hari stated.
The President said despite MTN's initial decision to drag the Federal Government to court over the fine and later withdrew the case, negotiations would con­tinue until the matter ends.
"Unfortunately for MTN, they went to court and once you go to court, you virtu­ally disarm the government be­cause if the Federal Government refuses to listen to the judiciary, it is going against its own Constitu­tion. Therefore, the government has to wait.
"I think MTN has seen that and decided to withdraw the case and go back and negotiate with the government agencies on what they consider a very steep fine to be reduced and maybe given time to pay gradually," Buhari said.

President Buhari stressed the need for both countries to continue their long-standing rela­tionship as their affinity and leadership of the continent remained undisputed, adding that Nigeria would exploit South Africa's advantage in agri­culture and solid minerals sectors as both countries continue to ex­pand mutual trade relations.

In his remarks, President Zuma said that his talks with Buhari covered are­as of mutual cooperation such as trade, transport, defence, securi­ty, immigration, energy among others. He disclosed that over 30 agreements and Memoranda of Understanding (MoUs) had been signed and relevant minis­ters from the two countries had been directed to implement them.
Published at:
10:13 AM, 9/03/2016 (2 years ago)
Author:

Giwa bayo
Problem with this article? Please email reporter[at]naijapals[dot]com or visit our contact page
---