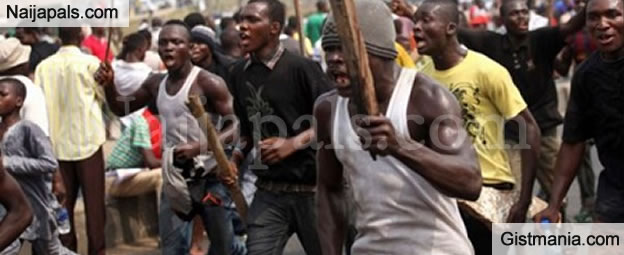 A group of hoodlums opened fire on some protesters in the Ikorodu-North Local Council Development Area of Lagos State. This has led to injuries to some of the protesters, with one reported dead.
According to reports, the protesters gathered to speak up against the forceful takeover of their farmlands by some hoodlums when the incident happened on Friday, April 1, 2016.
It was at the course of this that the hoodlums came over to the venue where the protest was being held and open fire on them.
According to the Lagos State Police Command, three suspects have been arrested in connection to the attack.
Opeyemi Taiwo, the Chairman, Isiu-Eweye Development Association, gave an explanation of the purpose of the protest.
He said,

Quote

"Last Friday, we got fed up with the activities of the hoodlums and we embarked on a protest to call for government's help. The hoodlums came and attacked the protesters."
"The police intervened and the hoodlums took to their heels. But in the course of the fracas, Hassan, who woulds blocks in the community, sustained gunshot injuries."
"That evening, the hoodlums returned and there was another confrontation. That was when the Hausa man was shot dead."


Investigations into the matter revealed that the residents of the area have been subjected to human rights violation.
Many of the residents were arrested unjustly, while the main perpetrators of the crime were left to go scot-free.
The people living in the area are said to be in fear as the situation only grew worse over time.
---