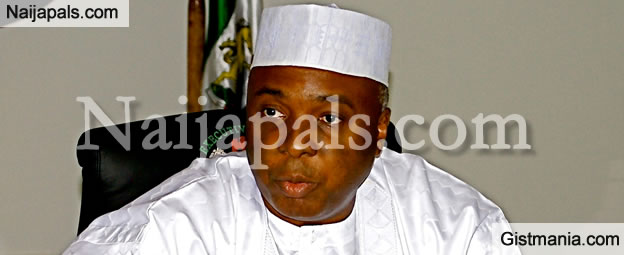 Senate President Bukola Saraki yesterday told the Code of Conduct Tribunal (CCT) that he had no reason to steal or embezzle public money as he was already richer than Kwara State before he became governor in 2003.

According to him, as at September 2003, he was worth $22 million, £12 million, €2.6 million and N4 billion in cash, and owned movable and landed assets before he became governor of Kwara State in
2003 as was contained in his asset declaration form of 2003.

Paul Erokoro, one of his counsel made the revelation while cross-examining Michael Wetkas, a detective of the Economic and Financial Crimes Commission (EFCC).

However, Erokoro's statement elicited the rebuke of Rotimi Jacobs, counsel to the Federal Government who said that being rich does not stop a thief from stealing.

Saraki is facing a 16-count charge bordering on alleged false asset declaration and money laundering, which he pleaded not guilty.

To demonstrate his affluence, Saraki through his counsel referred the tribunal to his assets declaration forms submitted to the Code of Conduct Bureau and dated September 16, 2003.

The document read out in the tribunal by the prosecution witness, Wetkas revealed that the Senate president had 13 exotic cars valued at N263.400 million before he became governor of Kwara State.

They include:


Mercedes G.500 bullet proof valued at N45 million;
Mercedes S500 worth N30 million;
Lexus Jeep bullet proof valued at N30 million;
Mercedes S320 valued at N16 million;
Mercedes S500 valued at N20 million;
Mercedes G500 worth N6 million;
Mercedes V.220 costing N2 million;
Rally 456GT (N25 million)
and Navigator worth N15 million.
Mercedes MM240 valued at N8.5 million;
Peugeot 406 at N2.9 million;
Mercedes CLK320 valued at N9 million
and Mercedes E320 valued at N11 million.

In the area of landed property, the document showed that Saraki is worth N2 billion.

Meanwhile, the Senate President alleged that his assets declaration form submitted in 2003 has been doctored.

He submitted that the refusal of the EFCC operatives and the Code of Conduct of Conduct Bureau (CCB) to invite and relate with him on the form was because of the fear that he would challenge an insertions made on the form.

But the EFCC witness, who was being cross-examined by Saraki's counsel denied the allegation, saying the form was filled and signed by Saraki before a competent Judge.

When the witness was asked if he was aware that the assets declaration form submitted by the Defendant in 2003 was tampered with since it contained some entries of properties that were not put on sale by the Federal Government until 2006, Mr. Wetkas said:



Quote

"As far as I concerned, exhibit one was signed by the defendant himself on September 16, 2003."


He insisted that Saraki made anticipatory asset declaration.



Quote

"Based on the strength of the documents we have tendered, I agree that the defendant made an anticipatory asset declaration until proven otherwise.'' He, however, said that property No. 15, Macdonald Street Ikoyi, Lagos, was sold to Saraki's company Skyview Properties Limited which was not captured in his Asset Declaration Form.



He further testified that Saraki bought property No. 15A and 15B Macdonald Street Ikoyi, Lagos, in 2000 through his company, Tiny Tee Limited, a purchase he said violated the rules of the implementation committee on the sale of Federal Government property which suggested one person per one property.

When asked why he did not confront the Senate President with it, he said he did not have any interaction with Saraki but the document was one he could believe because it was signed before a competent Judge.

The tribunal Chairman, Justice Danladi Umar, adjourned further proceeding till May 11.


---

For more scintillating and juicy stories, follow the official Naijapals accounts On Twitter - @Naijapals and Facebook - www.facebook.com/naijapals[/list]
---
Posted: at 11-05-2016 06:12 AM (6 years ago) | Addicted Hero