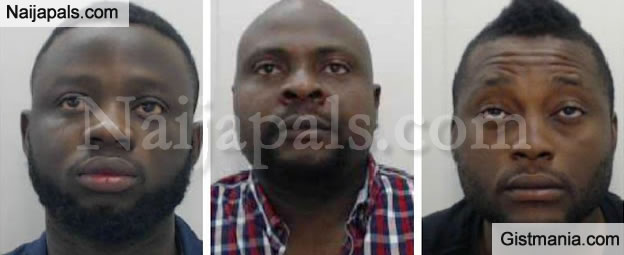 A gang of Nigerian fraudsters who posed as bankers, financial gurus and potential love interests have been jailed after swindling people out of £1m.
Peters Akanno Obi, Soloman Adanegbe and Prince Braimah-Oboh preyed on victims across the world, conning them out of cash, which was laundered and stored in accounts in Greater Manchester.

The trio were jailed at Manchester Crown Court after being found guilty by a jury following a four-week trial.

The court heard that between May 2013 and July 2014, the gang posed as bank employees, potential love interests and financial advisers, attempting to con hundreds of thousands of people across Europe, the USA and Asia into depositing money into bogus accounts.

The cash was laundered, stashed in accounts in our region, before being funnelled offshore. Detectives from GMP's Fraud Investigation Team arrested the men in July 2014. They seized blueprints for a house in Nigeria, fake cheques and high value receipts for international bank transfers.

When officers arrested Akanno-Obi, his laptop was switched on and he was logged on to a spoof banking website. He had been sending emails to people in Hong Kong, using multiple identities, trying to romance them into wiring him money.

Analysis of computers unearthed personal data of victims, template letters to convince victims they were looking for love and documents claiming recipients had pocketed large sums following the death of a long lost family member.

Peters Akanno Obi, 42, of Stillwater Drive, Clayton, was jailed for seven years for conspiracy to commit fraud, conspiracy to commit money laundering and possession of articles for use in fraud.
Soloman Adanegbe, 38, of Rowan Court, Salford, was jailed for seven years for conspiracy to commit fraud and conspiracy to commit money laundering.

Prince Braimah-Oboh, 49, of Powell Street, Clayton, was jailed for seven years conspiracy to commit fraud and conspiracy to commit money laundering.



Detective Sergeant Phil Larratt, of GMP's Fraud Investigation Team, said the sophisticated crime group utilised specialist software to contact hundreds of thousands of victims at once.
"This series of high value international frauds was perpetrated by the offenders from the comfort of their own homes in Manchester. Luckily the majority of people don't fall for these types of scams, but due to the volume of attempts, even a success rate of one per cent can be extremely lucrative for these criminals. "This was their full-time job. Money was being deposited and withdrawn from their bank accounts on a daily basis." he said.

"We know that other crime groups are committing similar types of scams across the UK and I'd urge the public not to send money to people they have never met or place investments in schemes that have not been verified. "These criminals often try and prey on people's good nature so please be vigilant. The likelihood is that the vast majority of people have received phishing emails, make sure your spam filter is on and don't click on any links or attachments contained in suspicious emails"
---