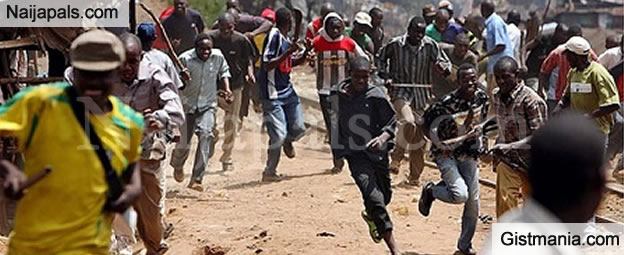 One person has been reportedly killed while many others were on Thursday injured as two factions of Yoruba militia groups, Oodua Peoples Congress (OPC) led by Otunba Gani Adams and another faction of OPC, OPC New Era clashed at the Lekan Salami Stadium, Adamasingba Ibadan.
among those seriously injured is a strong member of the New Era Group, Mr. Adesina Akinpelu.
The fracas occurred at the front of the Lekan Salami Stadium, where a meeting of Yoruba leaders titled "Yoruba Standpoint on Restructuring" was held.
Akinpelu who was said to have been injured with several weapons such as guns, cutlasses, stones and sticks was taken to an undisclosed hospital for treatment.
It was gathered that it took the intervention of the DPO in charge of Mokola Police Station and other security agents to ensure that the clash did not escalate.
A golf car with registration number JJJ 784 AS was damaged at the front of gate 3 of the stadium during the fracas. The golf was abandoned for several hours before it was taken away by the policemen for investigation of the matter.
one person was gunned down by a faction of the OPC.
He said " One person was injured, he pretended as if he was dead, some of his colleagues came and another faction met them. The two factions were shooting, one faction was shooting up, while another faction gunned one person down. Some of them were from Lagos while some are from Ibadan."
Another source told DAILY POST that a member of one of the groups, who drove the golf car with registration number JJJ 784 AS, was accosted and challenged for pasting OPC sticker in his car.
However, efforts to speak to the Public Relations Officer of the state Police Command, Mr. Adekunle Ajisebutu as at the time of filling this report proved abortive.
Calls put through his mobile phone were not answered.