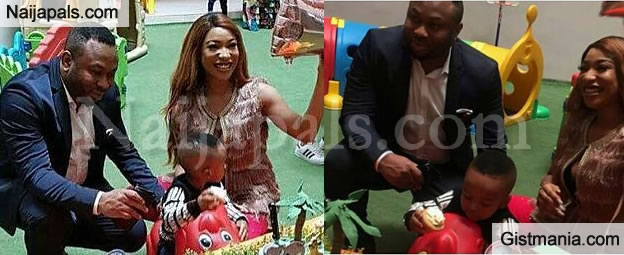 Wawu!!! These are definitly good times for the Churchill family, who would have thought? After all the domestic violence and STD. bitter lawsuits and fighting they will be back together within thesame space to make peace, JUST LIKE THAT O! Tonto Dikeh and Olakunle Churchill have left their differences in the bin to celebrate their son's birthday! I guess when a couple is fighting its best to let them resolve their differences by themselves because when they reconcile!




Nollywood actress and reality tv star, Tonto Dikeh unite with her ex-husband, Churchill Olakunle, as they both stepped out for their son's 2nd birthday party which held at his school. The boy, King, is the only product of the marriage that ended in a messy divorce with both parties accusing each other of domestic violence.
In an interview granted shortly before their divorce, Tonto is seen crying and complaining of the predicament she faced being Churchill's wife. She claimed the expensive gifts, which includes a new SUV, which she normally flaunts on social media with claims that he bought them for her, were actually not bought by him. She said she did those things so as to present her man as a good husband before the public, whereas the opposite was the case.
Few months later, a video surfaced showing the actress, attempting to slap Churchill who alleged that she is a troublesome person who once scattered his house due to a quarrel they had. Few moths after the video surfaced, the both of them parted ways via a divorce.
Recent news has it that Mr Churchill prevented the airing of a reality tv show by the actress simply because it features his son. He claims they were exploiting his son's innocence cos he's not yet up to the age to consent to such. The show, 'King Tonto', drew lots of attention after the actress revealed in the trailer that she underwent cosmetic surgery cos she was ashamed of her body.