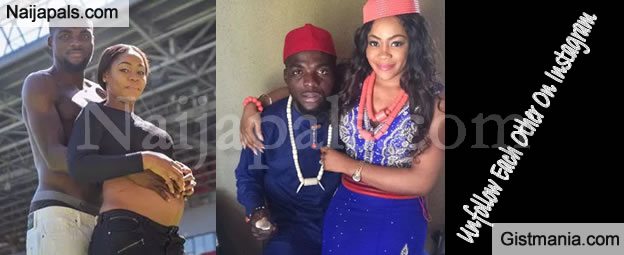 Super Eagles Player John Ogu and his wife Akaolisa have un-followed each other on Instagram........

he has deleted all her pictures on his page while she has changed her Instagram name back to her maiden name Chiugo Veronica Akaolisa

Akaolisa relocated back to Nigeria from Israel last year and has been lying low after deleting photos and changing her name back to her maiden name....Her instagram name akaolisaogu no longer exists but she now has vera_olisa as her handle name....

John celebrated his club side's 5-2 home win against Maccabi Petah Tikva at the Arthur Vesermil Stadium on Saturday, October 3 by springing a surprise proposal to a shocked Akaolisa who came out on the field to accept his proposal

Ogu and Chiugo Veronica Akaolisa were traditionally wedded on December 29,2015 at their home town in Ndiojukwu village in Anambra State

Before the traditional wedding,they had their civil wedding on Thursday, November 12 ,2015 at the Ikoyi Registry.

Beautiful Akaolisa is a graduate from the University of Alberta, Edmonton in Canada...

No one knows why the couple unfollowed each other and why Ada changed names....

Vera who moved to Israel after their wedding,is said to have relocated back to her parents home in Festac town, Lagos.

There are reports that John has returned Vera's bride price.


Problem with this article? Please contact us
---