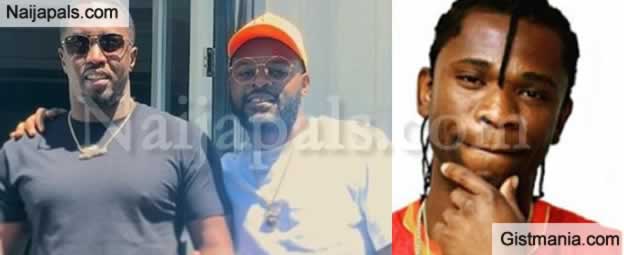 BANGDADADANG RAPPER, SPEED DARLINGTON WHO 'HAS BEEN INSPIRING DIDDY' SINCE 2016 HAS JUST CALLED OUT NIGERIAN RAPPER, FALZ FOR MEETING WITH AMERICAN HIP HOP LEGEND.
We reported earlier today that Nigerian rapper, Falz The Bahd Guy is currently in Los Angeles, Califonia where he hung out and shared a picture of him and American music mogul Diddy.

While it is unclear what their meeting was all about, what we are sure of is that Diddy is a fan of the comic yet conscious Nigerian hip-hop artiste.

According to Speed Darlington, alot of Nigerian artists like to 'copy him'.

The BangDadaDang crooner took to his Instagram page to say celebrities are following his lead as he's the first Nigerian artiste to be endorsed by Diddy.



He wrote,

'Omo nawa ooo. Them no get shame anymore. Someone tell me his not Igbo man please. Well at least I lead in something them dey rush me I never rush them' he wrote.