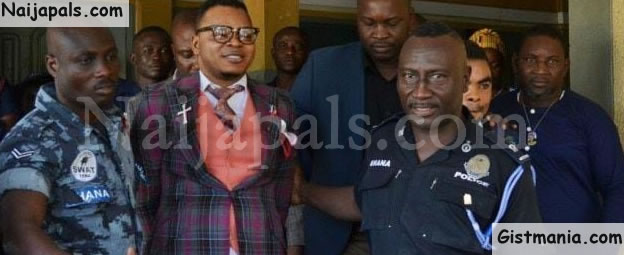 A pastor who flogged two young lovers in church two years ago has been fined 12,000 cedis ($2400) for the action that drew huge condemnation across the country.

A Circuit Court in Accra, Ghana, on Tuesday handed down the ruling against bishop Daniel Obinim of the International God's Way Church and two other junior pastors for their roles in the assault.

A viral video in 2016 showed Obinim and his pastors publicly flogging a young man and woman he described as his children. The two, had been involved in a sexual relation that had eventually led to pregnancy.



Obinim was subsequently arrested by police in the industrial region of Tema after he handed himself in following an invitation from the police over the widely publicized flogging.

"We have just commenced investigation into this issue, when we finish we will hand him over to Domestic Violence Victims Support Unit (DOVVSU) to investigate the domestic violence issue," police disclosed to local media outlet, Joy FM, at the time.

Bishop Obinim was seen on video publicly flogging two young members of his church for indulging in fornication. The pastor used a belt to repeatedly flog the two who are said to be living with him.



The sexual escapades of the two is said to have resulted in a pregnancy – the lady has since delivered and the couple were months back filmed visiting Obinim with the new born. The young lady is said to be an apprentice beauty therapist, whiles the young boy is unemployed.

The flogging was filmed and broadcast on the church's TV channel and later went viral on social media.
---