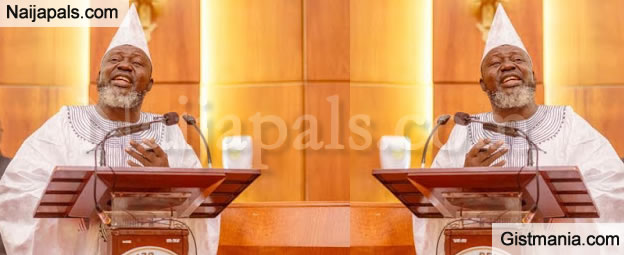 The minister of communications, Adebayo Shittu, says he can still partake in the one-year National Youth Service Corps (NYSC) scheme. It was recently discovered that Shittu did not participate in the mandatory service after graduating from the University of Ife (now Obafemi Awolowo University, OAU), despite finishing school below the required minimum age of 30.

He had defended the act, saying his first political post after graduation – as a member of the Oyo state house of assembly – could suffice as national service, a claim TheCable fact checked and found incorrect.

In an interview with Edumund Obilo, an Ibadan-based journalist, the minister said he is willing to join fresh graduates in the scheme "if it becomes necessary".

Asked if he is willing to still serve, Shittu replied: "Of course I will go. It will be a pleasant thing to go, after I have been governor by the grace of God."

The minister, who has since been disqualified from the race for Oyo state governorship election, said he is willing to serve in any part of the country.

Obilo asked him "what camp would you like to serve in?", to which he responded: "Whichever camp. I will serve in any place if it becomes necessary for me to go. If it becomes necessary, I will."

He, however, insisted his political service supersedes participating in the mandatory scheme.

"The courts would have to decide whether serving in the house of assembly and being minister is not superior and does not replace service in the NYSC," he said.

"I am not Kemi Adeosun because I didn't have any forged certificate of exemption. She didn't forge, she was a victim of circumstance."

The NYSC act does not provide a minimum age required to participate in the scheme, but states that a graduate is bound to serve if he or she leaves school before the age of 30.
---
Posted: at 29-09-2018 08:26 PM (2 years ago) | Addicted Hero