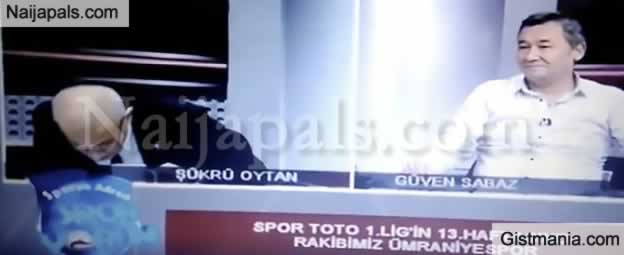 A news presenter has shocked viewers when he collapsed live on air after suffering a heart attack while doing his job.


Sukru Oytan (left) slumps forward on his desk while commenting on the Sports honeypot 1st League Eskisehirspor-Umraniyespor
match for a local Turkish television channel. His co-presenter, Guven Sabaz, appears confused at first before leaping into action

This is the horrifying moment a TV presenter suffers a heart attack live on air, just ten days after he was fitted with a pacemaker.

Sukru Oytan had recently been diagnosed with arrhythmia - a slow or irregular heartbeat - and had undergone a procedure to have a pacemaker fitted. Considering himself once again fit for presenting, he went to work at a local television channel in Turkey's Eskisehir province.

But while commenting on the Sports honeypot 1st League Eskisehirspor-Umraniyespor match, he suddenly slumped forward on his desk. In horrifying live TV footage, Oytan can be seen in this position for several seconds while his co-presenter, Guven Sabaz, looks on in confusion.

After a short while Sabaz decides to go over and check on his colleague, but as he does so Oytan suddenly jolts and collapses on the floor in a heap.

In a statement, the TV channel confirmed that Sukru Oytan had fainted during the broadcast, just days after having a pacemaker placed due to arrhythmia.


A spokesman said:

Quote

'He was immediately taken to a hospital. The doctors reported that his state is stable. We express our best wishes to Oytan and his family.'

A pacemaker is fitted for a number of reasons, including if your heart beats too slowly, too fast or pumps out of sync.

The electronic device is designed to artificially take over the role of your sinus node - the body's natural pacemaker - if it isn't working properly.

There are a few different types of pacemaker, but all are fitted with leads to the heart muscles.

An electronic charge, powered by a pulse generator, is then transported through the lead to the heart to simulate a regular beat.

Problem with this article? Please contact us
---