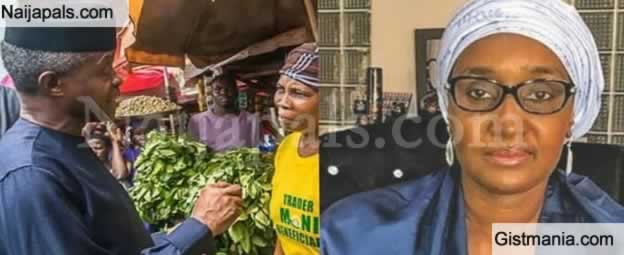 Sadiya Farouk, New minister in a newly created ministry of Humanitarian Affairs, Disaster management and social development receiving briefings from another aide.

She will be overseeing the N500billion National Social Investment Programme formerly under Osinbajo - Trader money, market money, cash transfers to poorest Nigerians and so on.

Minister of Humanitarian Affairs, Disaster Management and Social Development, Sadiya Umar Farouq, has confirmed taking control of the federal government's Social Investment Programmes (SIP).
The Minister, who made this known via Twitter on Monday, said she met with Maryam Uwais, Senior Special Assistant to the President on Social Investment for crucial briefing on the programme.

The minister tweeted:

Quote

"It is a busy week. Moving forward, I met with the SSA to President Buhari on NSIP.

"She briefed me on the activities, programmes, achievements and challenges of the establishment.

"NSIP manages Social Investment Programmes in Nigeria and it is presently under the purview of the Federal Ministry of Humanitarian Affairs, Disaster Management, and Social Development,"

she tweeted.
---