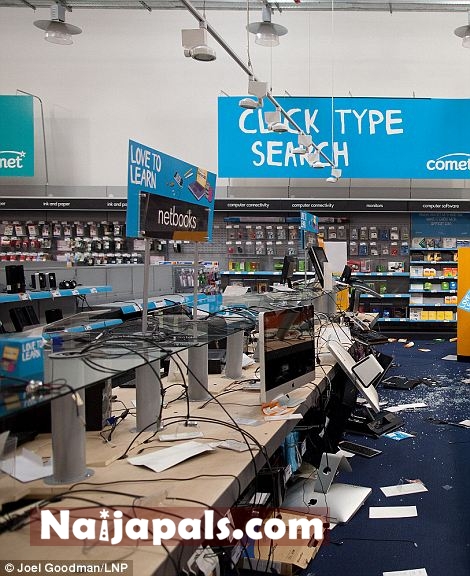 Violence follows protests over police shooting.
POLICE cars were torched, shops looted and a bus burned out as a major riot erupted in North London last night.
Eight police officers were hospitalised — one suffering head injuries — as hundreds rampaged through Tottenham.
The violence followed local anger over the fatal shooting of a suspected gangster by cops.

An initially-peaceful demonstration had been held outside a police station on the area's High Road from about 5pm, where locals called for "justice" after 29-year-old Mark Duggan was killed on Thursday night.
But witnesses said as anger turned to violence, hundreds more protesters appeared on the scene - apparently alerted by people using Twitter.
Police, who had apparently been expecting trouble, responded with hundreds of heavily-protected riot officers as well as mounted police while fire crews struggled to get near the blazes.
It is not believed that any officers were inside the police cars when they were attacked and set on fire.
Looters hurried away from wrecked stores in nearby Tottenham Hale Retail Park with trolleys loaded with stolen goods.
Local MP David Lammy, speaking from behind the police tape, this morning called for calm in the community.
He said: "What happened here on Thursday night raised huge questions and we need answers.
"The response to that is not to loot and rob. There are homeless people standing back there.
"We have officers in hospital, some of whom are seriously injured. It's a disgrace. This must stop.
"This is an attack on Tottenham, on people, on ordinary people.

Women who are now standing on the streets homeless. These are ordinary shop keepers who live above their shops."
Live TV pictures from last night showed a double-decker bus first emitting clouds of smoke where Tottenham High Road meets Brook St. It then burst into flames which quickly gutted the vehicle, as its fuel tanks exploded.
It is believed the trouble erupted near the Broadwater Farm estate where PC Keith Blakelock was hacked to death by rioters in October 1985.

Local resident Maria Robinson told the BBC the situation was "absolutely manic". She said some rioters were "making bottle bombs" and starting fires.

Another resident, David Akinsanya, 46, said shop windows were smashed. He said: "It's really bad. I'm feeling unsafe. It looks like it's going to get very tasty. I saw a guy getting attacked."
He added: "There was a line of about 15 riot police in front of the police station on the north side and then there were loads of uniformed officers on the south side of the police station.
"They weren't making any effort to go into the crowd. Every now and again they would rush the crowd and the crowd would run."
Stuart Radose had to flee his flat above a Carpetright shop last night as a fire ravaged the building
A Metropolitan Police spokesman said a large crowd was on the streets last night but not all the onlookers were involved in the disorder.
The spokesman said: "A number of bottles were thrown at these two police cars - one was set alight and the second was pushed into the middle of the High Road. It was subsequently set slight."

Describing the scenes, he said: "We live on the top floor. We could see the rioters coming closer. Aldi was on fire and barricades were being made by rioters. It was really scary."
Mr Radose, who went to stay at his father's house ten minutes away, added: "We've gone back this morning and it's a complete shell. Everything we had is gone. It's just mad."
He went on: "So many people have lost everything. It's just crazy. It looks like its the the Second World War. It looks like the Blitz where we were living."
Mr Radose said he his wife had thought the situation was beginning to calm down at about midnight, but he then saw from his balcony that "things were getting worse and worse".
He said: "There didn't seem to be a police presence at all. Buildings seemed to be allowed to burn. I guess they couldn't get there."

He added: "I think we've probably spent our last night Tottenham. We're just in shock."
A London Ambulance Service spokeswoman said paramedics had treated a total of 11 people, ten of whom were taken to hospital.
Two of the injured police officers needed attention from ambulance crews, but it is not yet clear whether the others were dealt with by the ambulance service.
The London Fire Brigade said today: "At the moment all the fires are under control. We are still at the scene of some of them to damp them down and make sure everything is out."
A spokesman for 10 Downing Street said: "The rioting in Tottenham last night was utterly unacceptable.

"There is no justification for the aggression the police and the public faced, or for the damage to property.
"There is now a police investigation into the rioting and we should let that process happen."
Home Secretary Theresa May also blasted the violence, saying: "I condemn utterly the violence in Tottenham last night. Such disregard for public safety and property will not be tolerated, and the Metropolitan Police have my full support in restoring order.
"I want to pay tribute to the officers who put themselves in harm's way."
Mayor of London Boris Johnson said: "I'm appalled at the scenes of violence and destruction in Tottenham.

"The Acting Commissioner has assured me that the police are doing everything they can to resolve this situation.
"The events leading to these disturbances are rightly being investigated by the IPCC.
Harming people and property will do nothing to facilitate the investigation, it will only make the situation worse."
Deputy Mayor for policing in London Kit Malthouse this morning said officers had coped well with the riot

But he admitted no-one predicted the level of violence, arson and looting that was going to take place.
He added: "Nobody thought that the protest would necessarily degenerate into that kind of activity and there's no reason why they should have done.
"The critical thing is, were we able to mobilise forces fast enough to deal with what did arise?

"We did get a significant number of officers out there to deal with it in good time."
The Independent Police Complaints Commission is probing the shooting of Mr Duggan. Police say a handgun was found at the scene and a bullet was later found stuck in an officer's radio.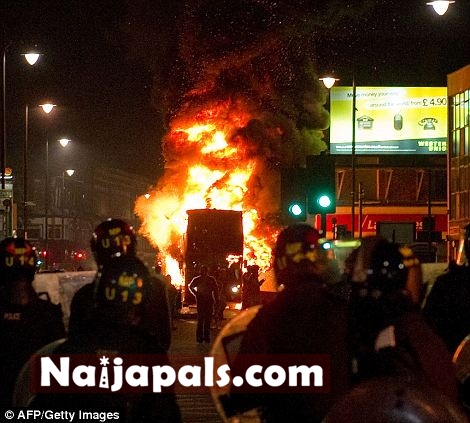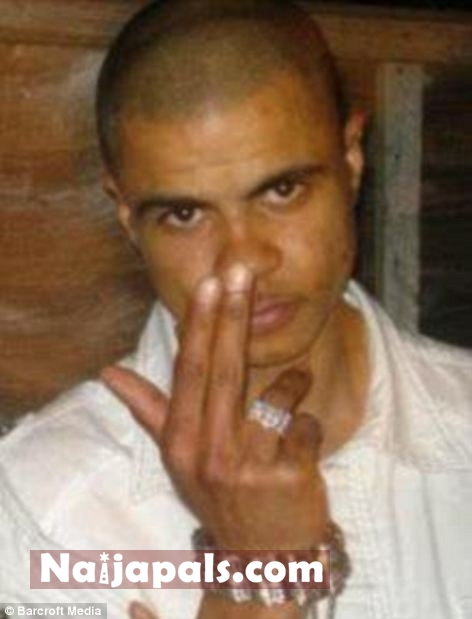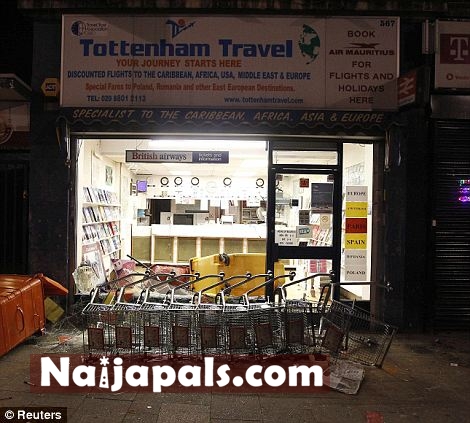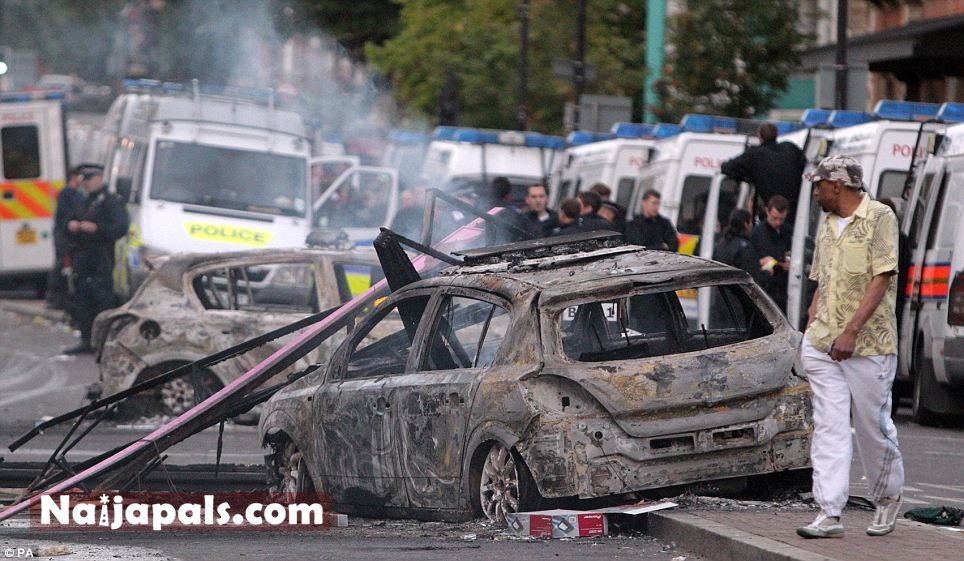 ---