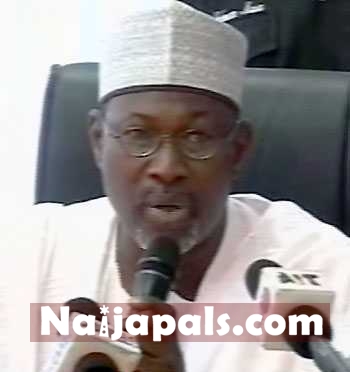 Chairman of the Independent National Electoral Commission (INEC) Professor Attahiru Jega has said that the commission is not fully independent as envisaged by the report of Justice Muhammad Lawal Uwais-led Electoral Reform Committee.

"In the level of independence, we are not there yet. I was a member of Uwais Committee that recommended the need to strengthen the independence of the commission. Obviously, we are not there yet. This is not for me. There is still room for reforms," Jega said recently while fielding questions on NTA current affairs programme 'Platform', which was monitored in Abuja.

INEC boss, who noted that the necessity of multiparty democracy should not be an excuse for the existence of 'too many frivolous political parties', underscored the need to specify certain conditions to be met by political parties before being allowed to field candidates in elections.

He said in as much as it is easy to register political parties, certain conditions should be spelt out to avoid abuse of the law that provides that a political party should be registered within 30 days of the receipt of such request by the commission.

While noting that the issue of 30 days was to prevent INEC from delaying party registration request unnecessarily, the INEC boss, however, said the electoral body as presently constituted was much more independent.

He stated the recent financial challenge occasioned by the transfer of their money to the newly introduced system is being addressed, noting that in budget preparation "everybody is not getting what they requested for" because of what government called "limited fund".

Jega said the commission was trying to strengthen its voter registration exercise and constituency delimitation before 2014, stating that "we are concluding strategic planning process. We have done quite a lot in terms of restructuring and reorganisation. We want, by 2015, to be the best or one of the best election management bodies".

INEC boss clarified the controversy over who is the Chief Accounting Officer of the commission between he (Jega) and the commission's secretary.

"The press has made a mountain out of a mole hill. The issue is: who is the Chief Accounting Officer and who is the Chief Executive Officer. In practice at INEC, Permanent Secretaries are posted as Secretary of INEC by Head of Service. In public ministry, they serve as accounting officers. But the constitutional amendment allows INEC to appoint its Accounting Officer.

"We did write to Attorney General and Minister of Justice to clarify who is the Accounting Officer. The Head of Service said the tradition in the Civil Service is to separate Accounting Officer from the political head of the organisation.

"Nobody in INEC has contested who is political head and Chief Executive Officer. I have asked Secretary to be Chief Accounting Officer until further clarification. Some people are saying I'm trying to gain more power," he said.
---