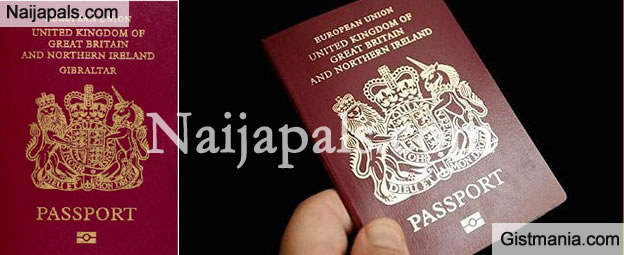 Naija boys, it's your turn – wake up and smell the Alomo Bitters! This column is sponsored, because many Naija guys in Jand are calling, texting and WhatsApping their exes, former fiancées and current girlfriends in Nigeria.
I mean, grown men are crying out, in hastily-made phone calls, that their balls are being busted by their Nigerian-British spouses. These are the same boys who popped their collars with swagger as they passed through Naija airports to fly to Jand to meet their Britico wives. Their mothers even gave testimonies in church and danced to the altar to celebrate their visa, and the first week they arrived they changed DP like 20 times per day to show they had arrived in Jand. Now these guys are constituting a nuisance to the innocent females they left behind. Is this fair? No.
So, for those of you still at the relationship stage with all these British-Nigerian women, I am here to help your hustle. If you do not want to end up like your friends and have the British passport you seek turn into a dead weight that crushes your balls irreparably, I insist you keep reading.

VISA OF LIFE
The immigration rules are straight; if you want to settle in Jand using the marriage hustle, you must endure a five-year period, where basically the woman is responsible for your "maintenance, accommodation and care." Basically the UKBA is handing your destiny to this babe so depending on her character, you may end up starring in your own blockbuster lacklustre movie called 5 Years A Slave.
Don't despair because marrying a woman for her Jand passport is the same as calling a cow "daddy" just so you can eat meat; very necessary and forgivable, given the perks that come with British passports.
As a guy your hustle is on a different level so if she does not come to Nigeria to marry you then you are on a long thing. Bear in mind say most of these women don chop winch; they will never let you visit London as a single guy in case you pass there vanish!
So, when it comes to travelling out time, guys always remember that the visa stage is not a matter of 'forget wetin dem write for body of motto, enter the motto.' Not all visas are equal so bros stay FAR AWAY from any visas that have the word "visit" in their titles. The actual visa you are looking for is the 'family of a settled person,' or FOSP for short. It has the longest period allowed, meaning you can stay 5 years at a stretch. With other "visit" visas you are not allowed to work if you are still forming engaged or doing oyinbo and calling yourselves "partners." In fact you cannot stay for up to 5 years at a time and if you aren't married, runs fit spoil.
If all this grammar is too much then: the FOSP visa is like entering an air-conditioned ABC bus, while the other visas are like danfo that can break down anytime and anyhow, leaving you to trek home.
So be guided, because Wyclef Jean was talking about Jand when he sang: "say what, say what, anything can happen." It is better you marry her in Nigeria and sign up for 5 years because the government will allow you to work all through, your accent go don set, and you can immediately apply for your own residency or passport if her wahala is too much.

CHECK: HOW MANY KIDS SHE GET AND HOW OLD ARE THEY?
Yes the government may give you the right to work but uhm, Madam may not allow you work. Forget age o, whether they are older than you or not, these women know they hold both the yam and the knife and can wield both either way.
Do you expect a woman who buys knock-off designer bags from China, sews her weavon on her head by herself to marry you in Nigeria, sponsor your FOSP visa and still employ a maid to look after her kids by another man while you sit eating her food and watching her Sky with HD? Guy wake up. Fast.
Before you marry her, take note of any kids she has and their ages. This is where the cougars are best because being promiscuous from a young age, they have used their reproductive organs to get citizenship from the UKBA and birthed children that are now teenagers. But be grateful because the kids brought the "paper" which will give you your own "paper" and besides, teenagers will not need babysitting. Even better, you won't be fleeced for child support when/if you eventually divorce.
Be aware because this Jand is a place where Nigerian women will tell you they work in a bank, actually wear M&S trouser suits and designer jewelry to work when in fact, they are only there to clean the bank's toilets. A place where cougars boast a human hair stash that's equal to the GDP of a small country yet they beg for credit on lace fabrics in Spitalfields.
So make sure you do not come to Jand to end up in forced labour, blackmailed into looking after kids full-time because your madam says she has to work and is the sponsor of your visa. As a guy man the only things allowed to soil your TM Lewin shirts are lipstick marks from your office runs and oil stains from Amala Shitta, not baby food and housework.
So before you waste your last years of virility looking after another man's kids, just remember that even science is warning you. Latest studies show that "unemployment degrades male sperm." Don't believe me?

WETIN BE HER POWER?
Since all angles must be covered we will now enter jazz, aka juju or voodoo. If you have read up to this stage then please continue to take your hustle serious and read on, before these Cougars with their wrinkled hands play ten-ten with your destiny.
So you heard, or suspect that she does jazz? Well, do not think staying in Jand will abate that habit. Rather, be alarmed if she frequents certain parts of London like Peckham, where someone got handed this card.
For your information Mr Moussa is real. I called his mobile number and he has agreed to help me find a husband when he returns from France where he went on holiday.
Yes, it is not only okporoko and cowleg they sell in Peckham. Don't be fooled either by all the "phonay" these Jand women speak and the contact lens they wear; they can be texting and emailing their babalawos so shine your eyes. These Naija cougars in Jand are not smiling because in particular, London has a very good spread of Babalawos, ready to help people with Ebo, Dafa and Abori in exchange for a few sterling notes.
You're asking how I know? Abeg forget wetin dem write for body of motto, and enter the motto! I won't talk much; just see this tweet below then Google "Babalawo in London" to get the full gist.
If on the other hand you are not averse to using babalawos then feel free to give the conniving nag a taste of her own (herbal) medicine. Perhaps just by blowing some powder in her face while she sleeps she will always cook your meals from scratch or believe your Naija side-chick is your sister and even encourage you to call her. Simple.



FROZEN FOOD
If you are one of those men coming to Jand and expecting fresh meals every day like your father did, then I suggest you have a rethink, or re-route your heart to her passport. Only the thought of that burgundy passport will soothe your ego when you hear you will have to microwave Iceland Pizzas three times a week or eat that dastardly Tesco Jollof rice four times a week if you want to be fed.
Worse fates exist; men have been known to go to the market, spend hours boiling kpomo and making stew just in time for Madam to kick off her heels and tuck in. You will survive.

HOW UNA WAKA REACH HERE?
If she chased you, then congratulations! You have bagged the best type of Jand woman. These ones are the women without scruples, washed-up and past their sell-by, wed-by date who woo men in Nigeria by asking; "wha'sTrong with you? Don't you want to be a British citizen?"
They appreciate your hustle and will help it on its merry way so I would say by all means go for it. Because after your 5 Years A Slave period, they will make a great effort to turn right when you start having dalliances with young blood on the left. They will make sure to have your Nkwobi piping hot and ready, even if you waltz in smelling of the other chic's perfume. It's the least they can do for your willingness to give them a valid last name jare.
Meanwhile, if you chased her, then here's, take it, a box of tissues; you will need it. The tears will come anytime you try to verbally issue the standard reminder that you are the man, and you married her – whilst standing under her roof, her British passport blurring your line of vision with its lush burgundy-ness, while your useless Nigerian passport, the one with the useless visa inside it peeks from underneath.
If she is a woman who threatens to report her colleagues or frenemies for overstaying their visas then remember that old people should not laugh when jokes are made about bones. Since you are still in the five-year period, it is best you do not annoy her because these women are as harsh as the bleaching creams they slather on.
Instead, just silently stand naked in front of a mirror and then look at your wedding pictures if you feel the inexplicable need to remind anyone that you are a man, and you married a woman. Because five years later you will be rocking your Britico passport and you can dump the old hag and send for that wife material in Nigeria.
Posted: at 24-06-2014 01:23 PM (6 years ago) | Hero