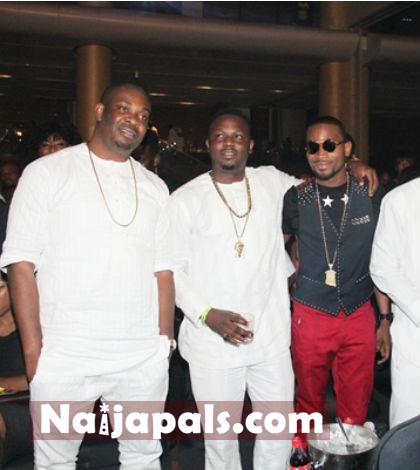 D'banj granted an interview to Olisa Adibua on his chat show, 'The Truth' where he talked about how he started his career, how he and Don Jazzy met, and what led to Mo'Hits Record's break up and deal with american rapper, Kanye west


How I Bonded with DonJazzy
Quote
We bonded before we left the UK because Jazzy fell out with his partnership with JJC. Because I was privileged to be his friend to know what had happened and what was happening back home.Rugged man had reached out to me once and told me the kind of money they were collecting,which when I converted it it was like 1,800 pounds or $2,000 per show and I was
like whatt?The people raining in the industry were styl-plus,2face's plantashun boys.Before we even did anything, we listened to what they were playing in Nigeria.Jazzy was fond of that ..Oh boy this one don dey make money oh..(we listen)..We listened to music of everyone making money ..So when I found out he had major issues with JJC , I said "Oh boy,lets go back home".
So we came back, my parents were here.By then he had moved all his family over there.We came back in 2004 and moved straight into my mum's boys quarter in Mary land.We got a first car,Toyota Privera from her ..We said we will pay her later .Bad car oh..and we paid her for it eventually.We got Tongolo,the first video and released it in November, just before Christmas and that was it...
What caused the Mo-hits split ? What made you decide...
Quote
What made me? (a light banter)You guys have not spoken to Jazzy?Jazzy.tell them the truth mehn..Come and tell them these people the truth..
What broke Mohits..Hmmn Difference of opinion..First of all it wasn't me.We had traveled and left Donjazzy in New York with some of the management team because he had a production deal.We were trying to go global..I would love if you had the Truth from Jazzy too,it would have been better
I met Kanye west, but you all know I am a businessman.But there were two different deals.One he saw I was an artist,and he wanted to sign that artist.Then this artist said "I have a producer .We have the best thing coming from Africa...And he was sold.And then we flew to New York

On paying money to Kanye
Quote
I got an artiste deal.I got a standard artiste deal because Kanye wanted to sign me as an artist.Then I said nooo..I'm a businessman.I have a record label can do partnership.It was a partnership between Mohits record,Goodmusic and Def Jam records.It wasn't going to be Dbanj and Donjazzy.I was just the first part of the deal.There was also a production deal because Kanye loved Jazzy's sound ..
ON DONJAZZY AND THE KANYE DEAL
Quote
On why Jazzy pulled out He saw the big picture but some people are real.You can force a horse to a river, but you can't force it to drink water ..
But what really caused the split
Quote
Eh first person if I will be truthful will be Dr Sid (Laughs).We came back from Newyork and had a meeting with Donjazzy..And Jazzy expressed his discomfort like listen,this place is too expensive, we are spending money ..Going to stay there,things dey happen for Nigeria,we are already bosses here..We don't need all this ..I'm like we are almost there.It is expensive but we can't guarantee because its a doggy world out there..I said to him,listen brother ,this is not uncertainty.For Kanye West to see us,na God..and he said he didn't want us to do it again ..He wasn't interested.But I told him because I had sensed it before the last concert we had.I told the lawyers in New York.They were trying to get him to come around but he didn't .
So we had that meeting and he said he didn't want me as a partner again .That there was alot ..I told him to give me 6 months..to convince him again..maybe to sell my share to someone else, take the money to go and try again ..I saw it wasn't working and he formed a synergy with SID.It was clear.He wasn't comfortable around me .My mistake was, I wasn't sensitive enough to have noticed ..
So December 2011, during a general meeting after 6 months, he said he had thought about it and wasn't interested ..Infact, not just him..That this one is not interested,this one is not interested(mo hits members)..I said ah! I was heartbroken. Kswitch is my brother..But the truth? K-switch was with them ..

People were not comfortable..Now I look at it, maybe I did change..We all changed ..It wasn't money.It was because we ran mo hits record like a family.That's why we failed
---