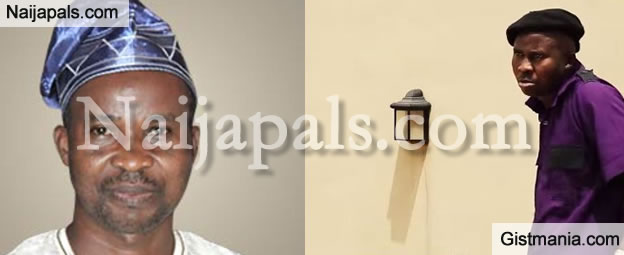 In the Yoruba movie industry, Wale Akorede otherwise known as Okunu is a popular comic actor who is currently making waves. He is based in Ibadan,capital of Oyo State with the likes of Muyiwa Ademola, Femi Adebayo and the rest. He has produced and featured in many exciting movies including Ise-Imole, Afurugbin and many others. He also shine in a movie titled"Ayekoto" written and produced by Sarafa Olabode, where he made an hilarious slogan "Tori Owo Nani" and this, gave him more fame and registered his face on many movie buffs' minds. Okunu started acting right from his primary school and one of his teachers predicted that he will end up trading in the make believe industry. He made acting a profession to hold on to in 1984, but fortunately and unfortunately for him, he left the industry to Saudi Arabia for greener pasture where he sold clothes, Shoes, Bra and other fashion accessories for good 13 years before Muyiwa Ademola Invited him back into acting in 2007. In a visit to Ibadan City, the thoroughbred actor spoke to us, about his life and the reason he returned into acting after leaving the industry for 13years.

Could you please tell us more about yourself?
I am Wale Akorede, born in November 5th, 1967. I started my educational career from ICC primary school in 1973 before I switched over to Adelakun Memorial Grammar school and Ijaiye Orile school for my secondary education, I proceeded to the Polytechnic Ibadan where I studied Fine Arts and i graduated in 1981, but later travelled to the kingdom of Saudi Arabia where I did business for almost 13years, and after that, I came down to Nigeria to settled down in the movie industry.
What kind of business is that?
It was buying and selling business. I sold cloths, bra,shoes and every other commodity. But during that time, I do come for acting while I also go back to Saudi Arabia.
How did you start the acting?
I started in 1984 but when I left the industry for Saudi Arabia for greener pastures in 1991, Muyiwa Ademola always worried me to return into acting because he saw so many things in me and I know how to act rather than doing business, I took to his advice before I finally came back in 2007.I have been practising acting since my days in secondary school. Some set of boys came to me in 1984 to join their theatre group and I realised some money through it but my parents didn't permit to go into it because there were lots of atrocities during that period in the industry. But glory is to God, they are now happy for my success in the industry. My parents are illiterate and their believe was that we are this and that but when I didn't tolerate that with them, they gave me the chance by force.