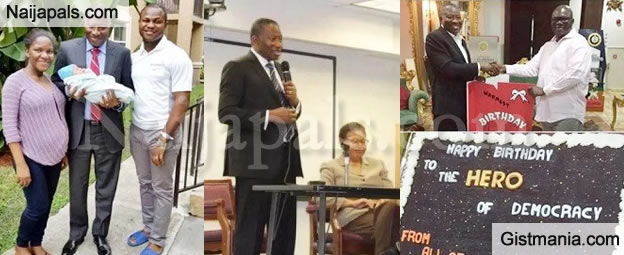 In this pictorial article, we look back on how Goodluck Jonathan spent his one year after he accepted defeat and congratulated his opponent, Muhammadu Buhari after the 2015 presidential election.
Today, 13th April 2016, we look back on Goodluck Jonathan's one year after loosing the presidential election and accepted defeat as well as congratulating his opponent, Muhammadu Buhari.
Jonathan's historic and heroic action made world leaders, Nigerian politicians and political observers shower praises on him, noting that his concession of defeat prevented a repeat of the bloodshed that followed the presidential election in 2011. By that action, the ex-president seems to have won more hearts, attending conferences and receiving local and global awards.
Below are the most important events that happened in Jonathan's life after the election.


Special Thanksgiving Service
A few days after handing over to President Muhammadu Buhari on May 29, Goodluck Jonathan and his wife Patience attended a special Thanksgiving Service at the Saint Peters Anglican Church in Yenagoa, Bayelsa state.


2. Vacation in Kenya
In August 2015, Goodluck Jonathan, his wife and children visited Kenya's Maasai Mara Games Reserve, where they had a chance to witness a spectacular wildebeest migration. A day after the arrival, he appeared on pages of foreign and national dailies.


3. Goodluck Jonathan becomes a granddad
On September 23, his daughter, Faith Sakwe and her husband, Godswill Edward, welcomed an adorable baby girl in a US hospital. The little girl was christened Princess Eliana Godswill Edward.


4. Observing elections in Tanzania
In October 2015, Jonathan was a leader of a 33-nation observer mission that monitored elections in Tanzania. Using his acceptance of defeat as a bright example, Jonathan assured politicians that they should always put the interests of the citizens first.


5. The hero of democracy clocks 58
On November 20, Goodluck Jonathan celebrated his 58th birthday. The former president spent this day with his family, close friends and political allies who sent hearty birthday wishes to him and organized a birthday party.


6. Meeting with future leaders
In November 2015, Jonathan went to the USA whe he met with students of the Howard University School of Political Science. Speaking at the event titled "Elections And Constitutions In Africa: A Timely Issue", the former president addressed future leaders and encouraged them to embrace civil education.


7. Jonathan is a grandfather again!
On January 11, Jonathan's adopted daughter, Inebharapu Paul, welcomed her first child with her husband, Simeon Onyemaechi, at Memorial Hospital West, in Florida, the USA. The boy was named Kachiside Onyemachi.


The Martin Luther King Human Rights Award
On January 14, Jonathan was honoured by the Southern Christian Leadership Conference in Atlanta, the USA. The ex-president received this prestigious award in recognition of his leadership in advancing human rights, social justice and the fight for universal freedom.


9. 2016 Hope Global Forums conference
Jonathan presented the keynote address at the 2016 Hope Global Forums conference held in Atlanta, the USA. The event gathered thousands of leaders, business professionals and public policy officials from many countries who discussed the ways of advancing social and economic well-being of all people around the world.


10. 'Person of the Year 2015′
Jonathan was named the 'Person of the Year' by The African Sun Times, Africa's number one and largest newspaper in the USA. Expressing gratitude for the award, the former president noted Nigerian people were more deserving of this honour.
---