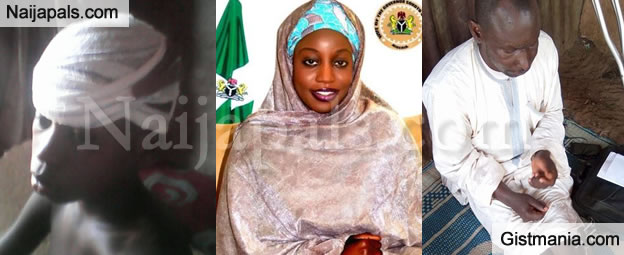 Recently, there was a report of how a group of area boys attacked and robbed residents of Makera Assada area of sokoto and in the process assaulted one Mustapha Makera and his son. Mustapha Makera had just returned from Dala orthopaedic hospital where he underwent a surgery to treat his leg which was broken due to an accident he was involved in last year.
The attack left Mustapha and his son wounded due to machete attacks he received from the hoodlums all over his body and that of his son whom he shielded from more attacks. The hoodlums also tempered with the broken leg when they tried to loose the equipment used to aid the treatment which resulted to the undoing of the whole operation.
It was due to this report that the wife of Sokoto governor, Hajiya Maryam Mairo Aminu Waziri Tambuwal, who is also the founder of MMAWT legacy initiatives, sent her aides to locate Mustapha and pledged her commitment to take over the case and foot the bills of his treatment and that of his son.
She has also ordered her aides to facilitate the admission of Mustapha at the Sokoto state Orthopedic hospital, Wamakko.