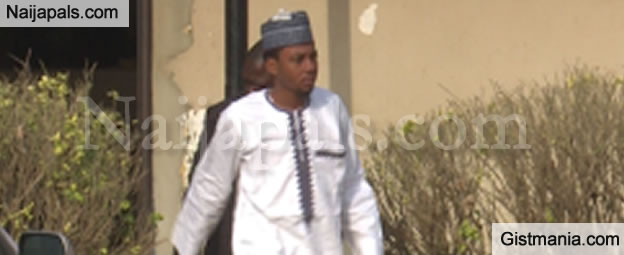 The Economic and Financial Crimes Commission yesterday January 12, 2017 secured the conviction of one Nuhu Abubakar Garo before Justice J.K Omotosho of the Federal High Court Kano on a counter charge of Money Laundering. The convict was arrested by the men of the Nigeria Customs Service at the Malam Aminu Kano International Airport while trying to board Ethiopian Air to China. The convict was arrested while he was trying to smuggle the sum of $101,500 (One Hundred and One Thousand, Five Hundred United State Dollars) out of Nigeria but instead of declaring the total sum, he only declared the sum of $19,000 thereby concealing the remaining sum of $82,500 to the officers of the Nigeria Customs. The convict was eventually transferred to EFCC for further investigation and prosecution. he convict pleaded guilty to the one count charge when it was read to him.
In view of his plea, counsel for the prosecution Sa'ad Hanafi Sa'ad urged the court to convict the accused person accordingly.
After the review of the facts of the case, and all the relevant exhibits were tendered, Justice Omotosho pronounced the accused person guilty and convicted him accordingly.
In his judgment, Omotosho sentenced the convict to serve two years imprisonment with option of N100,000 (One Hundred Thousand Naira Only) fine. The convict was also ordered to fortieth the sum of $41,250 (Forty One Thousand, Two Hundred and Fifty Dollar) , €500, ¥70.75 to the Federal Government of Nigeria which is a 50% of the undeclared sum.
The charge read that "You Nuhu Abubakar Garo on or about the 8th day January, 2016 at the Malam Aminu Kano International Airport, Kano State within the Jurisdiction of this Honourable Court while transporting in cash, the sum of $101,500 USD €1,000, ¥141.5, falsely declared to the Nigeria Customs Service the sum of $19,000 USD instead of $101,500 USD, £1,000, ¥141.4 as required under section 12 of the Foreign Exchange Monitoring and Miscellaneous Provision) Act Cape F34 Laws of the Federation of Nigeria 2004 and section 2 (3) of the Money Laundering (Prohibition) Act , 2011 (As Amended) in 2012 and thereby committed and offence punishable under section 2 (5)
Of the same act.