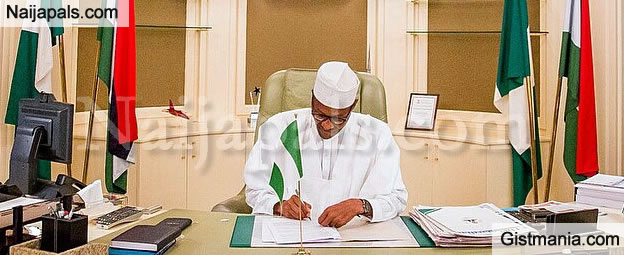 Nigerian Youth Advocate for Justice, a youth group has asked President Muhammadu Buhari to resign for being out of the country for more than 53 days.

The group gave the President an eight-week ultimatum to step down or face forceful removal by seven million Nigerian youths
in 22 states.
The President returned to the United Kingdom for medical follow-up on May 7, 2017 after spending 49 days in London on his first trip.

Olorunwa , the group's chairman said the president's ill-health had made it impossible for him to discharge his duties.

"We urge the Senate, House of Representatives, state house of assemblies and parastatals to persuade Mr. President to resign and hand over to an interim president in the interest of Nigerians,"

He said that Nigerian youths are ready to fight than to live as slaves while assuring that there would be no blood shed.
The group lamented the spate of killing, kidnapping, and robbery in the country, saying the All Progressives Congress (APC) has subjected Nigerians to humiliation because of its self-serving activities.

from Pulse.ng



Quote

*Wow,this is July and still no sight or word of the President of the Federal Republic of Nigeria?what a wow!



Problem with this article? Please contact us
---